PHAS research projects receive 6.8M BC government investment for research infrastructure
August 17, 2021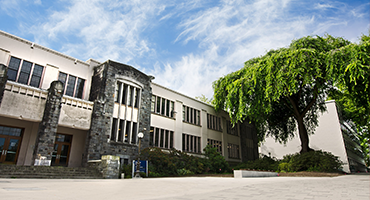 Research projects led by PHAS researchers have received more than 6.8M of infrastructure funding to support research in astrophysics, quantum materials, clean energy, and antimatter science. The funding is awarded through the BC Knowledge Development Fund (BCKDF) and gives students and researchers access to the latest technology, tools and equipment they need to drive research projects forward. 
The following projects are led by PHAS members:
Enabling gravitational wave astrophysics with calibration, monitoring, and characterization of the LIGO detectors
$220,000 BCKDF contribution
Principal Investigator: Dr. Jess McIver, Department of Physics and Astronomy
This BCKDF award will provide critical infrastructure to support an international collaboration of scientists using kilometre-scale detectors to measure gravitational waves—tiny ripples in the fabric of spacetime emitted by accelerating mass. The infrastructure will help ensure British Columbia is at the forefront of this new scientific frontier that will propel science forward across many fields, including stellar astronomy, astrophysics, nuclear physics, general relativity, high energy physics, and cosmology. 

Momentum resolved electron pair spectroscopy (2e-ARPES)
$2,628,802 BCKDF contribution
Principal Investigators: Dr. Andrea Damascelli and Dr. David Jones, Department of Physics and Astronomy       
This funding will be used to develop a first-of-its-kind system at UBC's Stewart Blusson Quantum Matter Institute that will study the physics of quantum materials with broad impacts across a range of fields including medicine, transportation and renewable energy. This new infrastructure will strengthen B.C.'s position as a leader in the study of quantum materials and devices, quantum computing and quantum communications, and help anchor new industries arising out of the study of quantum materials in B.C. 

Building a Future for Canadian Neutron Scattering
$700,000 BCKDF contribution
Principal Investigator: Dr. Alannah Hallas, Department of Physics and Astronomy
This funding supports a national project to build a neutron beam lab that will enable research and innovation in areas such as clean energy technology, information technology and biomaterials for understanding and combating disease.
The following project is led by PHAS associate member Dr. Takamasa Momose:
HAICU: Hydrogen Antihydrogen Infrastructure at Canadian Universities for Quantum Innovations in Antimatter Science
$3,279,274 BCKDF contribution
Principal Investigator: Dr. Takamasa Momose, Department of Chemistry
This funding will build state-of-the-art research infrastructure that uses newly emerging quantum techniques to study the properties of antimatter and address key questions about the origins of the Universe. The research will advance B.C.'s leadership in quantum innovation and support the development of new technologies in the fields of cryogenics, lasers, microwaves, photon detectors and particle manipulators that will be leveraged by B.C. companies and help grow the B.C. economy. 
These projects are among the 26 projects being led by UBC researchers that have been awarded a combined $22.4 million.
About the BC Knowledge Development Fund (BCKDF)
The B.C. government is investing nearly $25 million to support 34 post-secondary research projects that will drive innovation and economic growth. The projects will also help create jobs, protect biodiversity and the environment, and help keep British Columbians healthy and safe. During the past four fiscal years, the BCKDF has awarded more than $154 million to 255 projects.
"We are focused on building a sustainable, inclusive and innovative economy. By investing in research and innovation with our world-class talent and universities leading the way, we will be one step closer to achieving this goal," said Ravi Kahlon, B.C.'s Minister of Jobs, Economic Recovery and Innovation. "B.C.'s post-secondary schools are making significant advancements through leading-edge research that improves the lives of people and contributes directly to our economic prosperity throughout B.C. The Province is proud to support these incredible initiatives and the people behind them."
Read more