About Us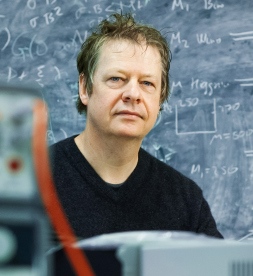 Message from the Department Head
Welcome to the Physics and Astronomy Department at the University of British Columbia, one of the largest and most diverse physics and astronomy departments in Canada. Our faculty, staff and students are committed to serving Canada and the province of British Columbia by attracting and training outstanding local, national, and international students, and conducting forefront research that spans the field. We are a vibrant community that engages in a wide range of research directions, from probing the origin of the universe to exploring emergent phenomena in complex systems, that provide deep insights into the nature of the universe and practical solutions that will help define the world of tomorrow.
Our undergraduate program reflects the breadth of our faculty -- offerings include Astronomy, Honours Biophysics, Engineering Physics, Majors Physics and Honours Physics as well as many opportunities for joint degrees with other departments and programs. We currently teach approximately 250 undergraduate Physics and Astronomy students in years 2-4, approximately 240 Engineering Physics students in years 2-5, and over 3000 first year students destined for other programs.
Our Graduate Program includes approximately 200 graduate students, working on experiments and theory in research fields that include: Applied Physics, Astronomy/Astrophysics, Atomic/Molecular/Optics, Biophysics, Condensed Matter, Cosmology, Gravity, Medical Physics, Nuclear Physics, Particle Physics, and String Theory.
We are very proud of our alumni, scattered around the globe, who have distinguished themselves in industry, the community, and academe.
Our faculty, which numbers over 50 professors and instructors, have won many awards for their research and teaching accomplishments, while they and our 40 valued staff members have also received numerous awards for their outstanding service.
I encourage visitors to browse the information provided under the various links, to learn about the courses we offer, the research we conduct, the awards our members have received, and descriptions of some major initiatives in the area of undergraduate education revision. For members of the general public, I particularly draw your attention to our Outreach link that describes annual and special events designed to be of interest to everyone.
Colin Gay
Professor and Head