UBC Physicist Alannah Hallas receives prestigious Sloan Fellowship
February 16, 2023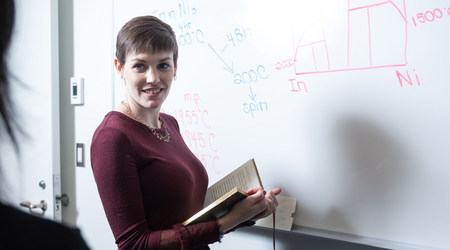 A version of this story was originally published by SBQMI on February 15, 2023.  
We are thrilled to announce that PHAS faculty Alannah Hallas has been awarded a 2023 Sloan Research Fellowship, recognizing her innovative research in condensed matter physics and potential to be a leader in her field.
The Sloan Research Fellowship is renown as a competitive and highly prestigious award that recognizes top academic performers. Granted by the Alfred P. Sloan Foundation, this fellowship distinguishes early career researchers that have made significant and substantial contributions in their field by awarding $75,000 in funds to support their research.
Since the inception of the Sloan Research Fellowships in 1955, 47 UBC faculty have received this award.
Alannah is an Assistant Professor in the Department of Physics & Astronomy in the field of Condensed Matter, and Principal Investigator for the Quantum Materials Design Lab at the Stewart Blusson Quantum Matter Institute, discovering new quantum materials by way of crystal design and development.  
Known for her leadership and exceptional contributions in the research of quantum materials,  Alannah hopes to continue her research with new materials under extremely high pressures, discovering new and unique materials that may hold quantum properties.
Alannah holds a number of awards including the Neutron Scattering Society of America Prize in 2018, the Bryan R. Coles Early Career Prize in 2022, and was named the CIFAR Azrieli Global Scholar in Quantum Materials in 2020. 
Congratulations, Alannah on receiving this Fellowship and for your valuable contributions to the field of new quantum materials!
Learn More:
See the original SBQMI article here. 
View Alannah Hallas' research site here and see more about the HallasLab@UBC here.
Links:
To view a full list of Sloan Fellows from UBC Physics and Astronomy, please click here. 
Read more about the Alfred P. Sloan Foundation and Fellowship requirements.