PHAS student Katie Rink received top prize in UBC Undergraduate 3 Minute Thesis competition
March 27, 2020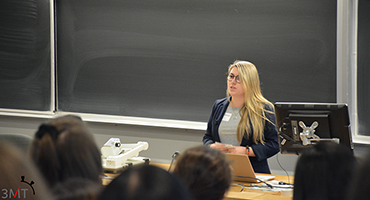 Congratulations to PHAS student Katie Rink (Astronomy), who shared the top prize in UBC Undergraduate 3 Minute Thesis competition!
To participate in the UBC Undergraduate 3MT, students submit a video of the presentation of their directed studies or honours thesis. They will then receive feedback from a panel of UBC faculty adjudicators outside of their field of study; outstanding students are then invited to compete for cash prizes in the live competition. Two students from PHAS - Katie Rink and Steffani Grondin - made the top 10 students and both proceeded to the Undergrad 3MT Final.
Katie is sharing the top presenter cash prize with fellow student Laurel Neufeld (Microbiology). 
For more information about the competition, visit the UBC Undergraduate 3MT website. https://ubc.3mt.ca/
Watch Katie and Steffani's YouTube videos: https://phas.ubc.ca/phas-students-steffani-grondin-and-katie-rink-advance-finals-ubc-undergrad-3-minute-thesis
(Photos provided by UBC Undergraduate 3MT)