PHAS grad student Sarah Morris received people's choice & third place in UBC 3MT Competition
April 1, 2021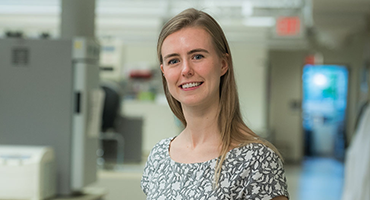 What can you do in three minutes? Make your coffee, finish your donut, or...perhaps, explain your thesis research project to an audience?
Ten graduate students - selected among dozens from various research fields, who participated in preliminaries and semifinals - competed in this year's UBC Three Minute Thesis Final on March 31st. PHAS graduate student Sarah Morris had an outstanding performance, earning her the third place and people's choice award (voted upon by the audience) with her talk, "Using advanced MRI to track myelin loss after spinal cord injury." Sarah is a PhD student with Dr. Corree Laule studying novel magnetic resonance imaging techniques to measure tissue microstructure in the brain and spinal cord.
"I found the process of motivating my thesis research and condensing it into 3 minutes really thought-provoking and it reminded me again why I like the research I do," said Sarah. "Thinking about how to remove jargon and make my story as compelling as possible taught me a lot about science communication. I would encourage any graduate student to join in the 3MT competition, it has been a great experience. I want to thank my supervisor Corree for being so supportive and helpful throughout!"
You can watch Sarah's 3MT talk, along with those from past PHAS participants, via YouTube. 
Congratulations again Sarah! 
Congratulations to the three winners of this year's #UBC3MT competition: Tebogo Thandie Leepile from @ubcLFS, Jennifer Ferris from @UBCmedicine and Sarah Morris from @ubcscience. https://t.co/k5nFN4If0y pic.twitter.com/nYj2HxjOa1

— UBC Graduate Studies (@UBCGradSchool) April 2, 2021
Read more: