PHAS alumna Shawna Narayan recognized by inauguarl UBC Envisioning Equality award
March 17, 2022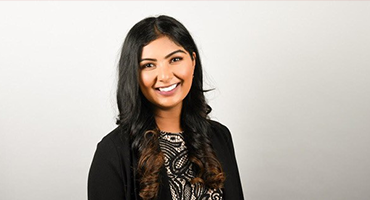 A version of this story originally appeared on the UBC Faculty of Medicine website.
UBC Physics & Astronomy alumna Shawna Narayan, now a research analyst in the faculty of medicine's department of family practice, has been named a recipient of UBC's inaugural Envisioning Equality awards.
The awards celebrate exceptional women and gender-diverse faculty and staff who have demonstrated outstanding contributions to their individual academic or professional practice and significant impact through mentoring and community engagement. Each recipient will be represented in a unique image featured on street banners on UBC campus. The art project, created by a local artist, will launch in 2023.
"Everything we do as a society depends upon the skills, talents and contributions of women and gender-diverse individuals around the world," said UBC president and vice-chancellor Santa J. Ono in a release. "I would like to congratulate the Envisioning Equity recipients, and to say a heartfelt thank-you for all that you do at UBC, and in the community."
Shawna Narayan, a research analyst in the faculty of medicine's department of family practice, is dedicated to addressing inequalities in healthcare and education. As part of the REDONNA study team, she contributes to crucial research that aims to the improve safety of opioid prescribing in primary care. The study investigates the effectiveness of individualized prescribing portraits to reduce inappropriate initiation of opioid analgesics.
Shawna is also the executive director of Empower The Future, an award-winning non-profit organization. Through her non-profit's projects, she focuses on breaking barriers in science, technology, engineering, and mathematics (STEM) fields for underrepresented groups, providing mentorship and peer-support to inner-city youth transitioning to post-secondary school, and supporting youth mental wellbeing.
In reflecting on her experience as one of the few women in her UBC physics lab, Shawna created the Diversity in Science, Technology, Engineering, and Mathematics (STEM) project to provide support for underrepresented groups (Women, 2SLGBTQIA+, Indigenous, and individuals with disabilities and/or mental illnesses) in STEM by developing informative workshops and much-needed resources. Her mission is for society to understand that there is no way forward in STEM without inclusivity of marginalized, creative, and barrier-breaking people.
You can read more about Shawna's UBC journey here.