PHAS alumna Shawna Narayan on experience in PHAS, diversity in STEM, and graduate school
February 11, 2021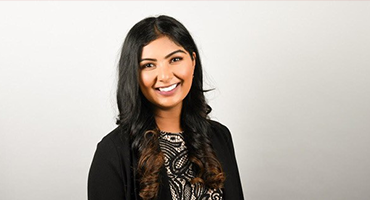 Shawna Narayan (BSc '18) is the founder of Empower the Future, a non-profit that helps marginalized youth overcome post-secondary challenges. Empower the Future recently won Surrey's Civic Distinction Award. Shawna graduated from UBC Physics & Astronomy in 2018; she is now a graduate student in the UBC Experimental Medicine Program, with a research focus on mental health of ethnic minorities. 
She shares her experience in PHAS and discusses how her own experiences shaped her efforts to reach out to inner-city youth.
Why did you choose to go into physics for your undergraduate degree program?
Though I enjoyed physics throughout high school (shoutout to Mr. Sutton), I had prepared to choose biology as my major during my first year. After enrolling in PHYS 101 and PHYS 102, my passion for physics was rekindled. I had fantastic professors (shout out to Dr. Iqbal, Dr. Reiger, and numerous TAs) who were engaging and shared their passion with students. While these people may not know it, they have motivated me to pursue physics and further develop a variety of skills.
How did you become interested in diversity in STEM?
When I was studying physics at UBC, I was the only woman in some of my labs. I'm also an ethnic-minority and growing up I didn't have many mentors. I wanted to play that role in helping other students, especially inner-city students.
What is some of the outreach work that you've been focusing on?
Originally, we were funded by the Centre for Community Engaged Learning at UBC to develop programming for women in STEM. But after discussing it with students and teachers, we decided to include more groups and call it Diversity in STEM. We did Diversity in STEM workshops in Surrey schools, discussing program requirements and different career options. Now we've developed a booklet called Discover STEM, which helps students understand the career options available to them.
The booklet showcases the different experiences of science students. Hopefully readers can identify with the students we feature, and also see that there are financial supports and resources available. Sometimes you have to go through different websites in search of information, so we've done that already and put it together in one place.
What are some of the barriers that you frequently see?
There are many challenges in finding resources and opportunities. As an inner-city student from Surrey, my own transition to post-secondary school was difficult. I didn't have the skills and resources that many other students had. For example, we didn't have advanced placement courses or opportunities to get involved in research at the high school level—other schools did.
Did the physics program help you develop necessary skill sets to transition from physics to experimental medicine, or with your diversity in STEM work?
I learned about the importance of hands-on learning, specifically through physics labs which focused on critical inquiry, problem solving, and self-directed learning skills. In one of the labs, we were given information on how to create an electrocardiogram (ECG) from wires, capacitors, and other items. This was a deep dive into thinking about how key machines work and learning about the fundamental concepts around it. I looked into research and further reviewed the instructions, and after several fails, I was able to create a full working ECG that read my heart rate. There was a great sense of accomplishment despite it being simply a class project.
While the content I learned from quantum mechanics or special relativity may not be directly applicable to experimental medicine, the skill set I have developed by participating in these labs has transformed my mind to be able think differently from other life science majors consider problems in abstract ways from another perspective.
How do you balance your academics with extracurricular volunteer work?
Although in high school I rarely used a planner, I now regularly use one to note deadlines for assignments, meetings for work, volunteer shifts, etc. I also integrate this with an e-calendar (i.e. iCloud) so I can get reminders and share more information about my schedule with friends and family. I also find to-do lists as a great way to prioritize work. If you are procrastinator, try to work on a large (or less appealing) assignment first. For example, I dreaded creative writing so sometimes I would work on these assignments first. On the other hand, you could work on completing fast task first for a sense of accomplishment. For me, this would be working through some webwork and checking it off my to-do list in between classes. These tips give me some time to focus on my volunteer work which in turn adds to my professional portfolio.
Do you have any tips for your fellow PHAS students?
Take some time to get to know your peers and reach out to students who may be interested in something that you are involved in or pursuing. I didn't feel that my intersectional identity was represented in the Department of Physics and Astronomy – as a Fijian-Canadian woman with anxiety disorder. I would have loved to connect with upper year students who could relate to my experience or identify with some of the same groups as me to share some guidance for a young student. I would even extend this advice to faculty and encourage them to think about their students' wellness, professional goals, and ways that they could support this using their experience and expertise.
A version of this story originally appeared on the UBC Faculty of Science website.