James Charbonneau appointed UBC Science Associate Dean Students
November 16, 2021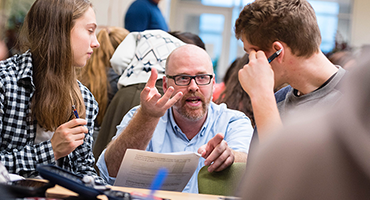 UBC Physics & Astronomy Associate Professor of Teaching Dr. James Charbonneau has been appointed the Associate Dean Students, UBC Faculty of Science. His new role will begin on January 1, 2022.
From UBC Science:
Dr. James Charbonneau, incoming Associate Dean Students
Long involved in leading UBC's Science One, Coordinated Science and First-Year Focus programs, Dr. Charbonneau is an Associate Professor of Teaching with UBC Physics and Astronomy. He is a two-time recipient of the UBC Killam Teaching Award for Science. He has a deep interest in student excellence, health and wellbeing, and equitable access to resources and opportunity. His research focuses on the development of the learning software ComPAIR, measuring faculty and student development in integrated science programs, and the role of spatial reasoning in learning physics. 
The students portfolio is responsible for managing undergraduate enrolment, administering undergraduate degree requirements, facilitating course registration and program planning, overseeing course articulation with other institutions, UBC Science Co-op, advising, and a range of other critical areas. Dr. Cavers oversaw tremendous growth in the portfolio, with enrolment peaking at more than 9,600 BSc and BCS students in 2021. He will leave the senior associate dean role on June 30, 2022 after 22 years of service in the Dean's Office.