UBC Physics Olympics featured by local media
March 14, 2019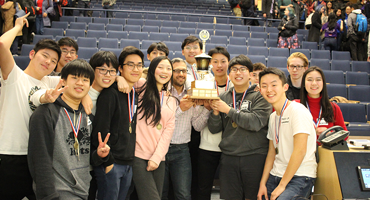 The UBC Physics Olympics is one of the largest and oldest high school physics competitions of its kind in North America. This year, more than 700 high school students and teachers from across B.C. - from Campbell River to Vancouver to West Kelowna and Invermere - competed in the 41st annual UBC Physics Olympics, where they showed off their physics knowledge and unique creations.
Congratulations to Semiahmoo Secondary School, which received first place for the overall event. Individual event leaders were announced during the award ceremony and on the Physics Olympics website. 
The event is organized by students and professors in the department of physics and astronomy and department of curriculum and pedagogy. UBC undergraduate students, many of them former competitors, volunteered their time to make this event possible.
This event was featured on The Tyee and by CTV News.