UBC National Olympiad Training Camp Prepares for Physics Gold
May 31, 2023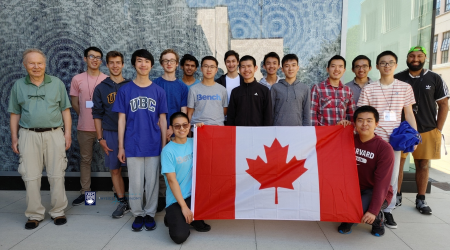 After gathering the results of the Canadian Association of Physicists (CAP) High School Physics Exam this April, 2023, top scoring high school students from across Canada were invited to participate at the University of British Columbia for an intensive academic week-long camp in May in preparation for one of the largest annual physics competitions on the international stage: The International Physics Olympiad (IPhO).
The IPhO is a gathering of the top physics talent for high schools across the globe in a week-long competition, whereby national teams compete with each other for physics honour and glory. Hosted in over 80 countries across 5 continents, participants have opportunities to learn from top international teams and are introduced to international physics trainers, researchers and education practices. All of this connects them to a global physics network, putting them in touch with academic and industry opportunities throughout the competition.
UBC's National Olympiad Training Camp is run by Canadian Physics Olympiad Director and UBC Department of Physics & Astronomy faculty member, Dr. Andrzej Kotlicki. Harnessing years of experience in physics instructing and having taken many teams to this event over the years, Dr. Kotlicki is responsible for providing camp participants with key experimental and theoretical physics concepts, as well as advanced physics and problem-solving strategies to best prepare them to compete in an international environment.
"It's all about students sharing knowledge and passion in physics and science in general", explains Dr. Kotlicki. "This event brings them more knowledge in physics and a chance to connect with students with similar abilities."
From day one, this rigorous camp wasted no time in plunging these students into university-level lectures and experimental explorations. Part of the preparation involved four 5-hour long (IPhO standard) theoretical and experimental tests, which covered fresh material and gauged the students' abilities to wrestle with novel concepts. Alongside these tests were visits to UBC labs and research facilities such as TRIUMF Canada's particle accelerator centre, the UBC ATLAS group and the Stewart Blusson quantum Matter Institute (SBQMI), where the students got to see how physicists, alongside other disciplinaries of the sciences, are implanting cutting-edge concepts and research on a larger scale. On the final day of camp, the top 5 students ("Team Canada") were selected to represent Canada at the 53rd International Physics Olympiad (IPhO), happening this year in Tokyo, Japan in July, 2023.
It's a feat unto itself to make it to this camp, and an even greater one to push forward and represent Canada as young physicists in Tokyo. Having survived a week of tense experimental lab sections to learning weeks of theoretical course material in a single sitting, these students are the best of the best.
On behalf of the PHAS Department, we would like to send a hearty congratulations to this year's camp participants on being the top 15 physics high school students in Canada! And for those going overseas, this is where Team Canada will be recognized as the best and brightest talent across the country, but this opportunity is also for you – enjoy this unique chance to meet others in the field, make friends, and learn about physics. Good luck Team Canada!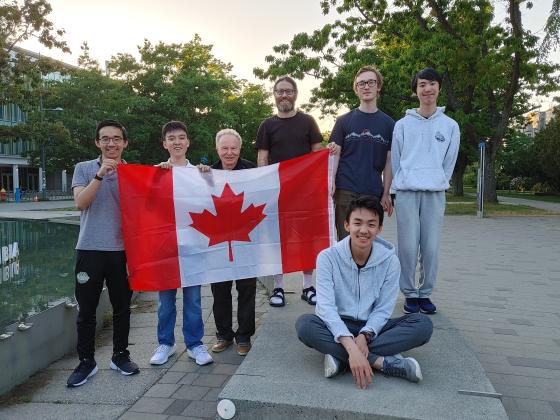 Back row from left to right: Wenhe Zhang, Connor Wong, Team leader Andrzej Kotlicki, Team leader Lior Silberman, Vincent Millington, Eric Shao; front row: Zander Li.