Stairs receives RSC Rutherford Memorial Medal in Physics
September 19, 2017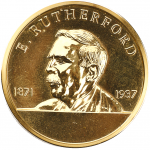 Congratulations to Dr. Ingrid Stairs for receiving the 2017 Rutherford Memorial Medal in Physics from the Royal Society of Canada!
Ingrid is one of world's leading experts on pulsars and has made significant contributions to radio astronomy instrumentation. In 2017, she was honored with a Martin Award from the Canadian Astronomical Society. She was involved in the development of instrumentation for the innovative CHIME radio telescope.
From the Royal Society of Canada:
The Rutherford Memorial Medals were established in 1980 by the RSC in memory of Lord Rutherford of Nelson, a great scientist and a leader in nuclear research. They replace the Rutherford Memorial Scholarship founded in 1952 thanks to donations from the Lord Rutherford Memorial Fund.
The medals are awarded for outstanding research in any branch of physics and chemistry and in recognition of Lord Rutherford's own research carried out in Canada at a relatively young age. Some preference will be given to candidates whose age is not over forty in the year of the award. Each gold plated silver medal is offered every year if there is a suitable candidate.
This year's RSC award winners will be celebrated during the Induction and Awards Ceremony on Friday, November 24, 2017 at the Fairmont Winnipeg Hotel, in Winnipeg, Manitoba.
For more information: