Sabrina Leslie awarded Killam Accelerator Research Fellowship
September 9, 2022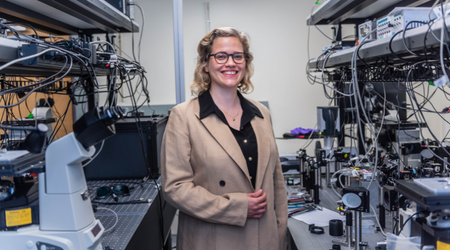 We celebrate PHAS alumna and Associate Professor Dr. Sabrina Leslie, who this Spring received one of the UBC 2021 Faculty Research Awards.
Honouring faculty research excellence and academic achievements, UBC awarded 30 faculty members with such honours in research across multiple disciplines ranging from Arts & Humanities, Science, Applied Science, and Medicine. Out of these recipients, Sabrina was one of 6 UBC researchers who received the prestigious Killam Accelerator Research Fellowship, which supports extraordinary, recently-tenured faculty who hold the potential to significantly impact their discipline, and who are at the stage to move to the next level of their careers.
UBC Faculty Research Awards are offered jointly by the Office of the Vice-President, Research and Innovation (VPRI), and the Office of the Provost and Vice-President Academic on both Vancouver and Okanagan campuses. Internally recommended by departments, nominations are submitted by the Dean's office, and are then reviewed by the Faculty Research Awards Committee (FRAC) for achievements in quality research, novel ideas, and a potential of high impact from proposed research. 
The Leslie Lab started at McGill University, before moving to the Michael Smith Laboratories at UBC in 2021. Sabrina's research, focusing on the biophysical properties of cells and molecules, is the core of her work in health sciences therapeutics research and development. Developing single-cell and single-molecule imaging tools and models of interactions, Sabrina hopes to better understand DNA interactions and diseases in order to advance genetic medicines and improve human health.
Well-known for her impactful research, Sabrina has been awarded multiple honours, including: the Canada Foundation for Innovation (CFI) Award (2021-12/2023), Member of the College of New Scholars of the Royal Society of Canada, Class of 2020, and Member of the 2019-2020 of the adMare Academy Executive Institute.
Congratulations, Sabrina!
Learn More
•    For more on Sabrina Leslie and her work at the Michael Smith Laboratories, see here.
•    To see Sabrina's profile on the Humans of UBC Physics & Astronomy, see here.