Ring of fire lights up Vancouver on October 14th
October 6, 2023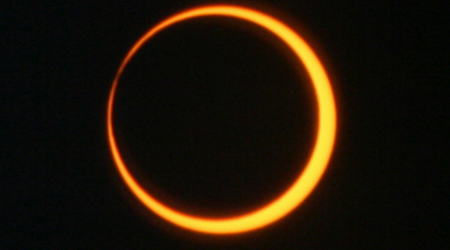 The Americas are poised for an extraordinary cosmic display with two eagerly anticipated solar eclipses gracing the skies in October 2023 and April 2024. 
The October 14 event is an annular solar eclipse, where a partial eclipse will unfold as the new moon gracefully maneuvers between the sun and Earth when the moon is at its furthest distance from the Earth. This results in the appearance of a radiant burning 'halo' or 'fiery ring' behind the moon. 
The visibility of this awe-inspiring phenomenon extends across Canada, the USA, Mexico, and various countries in Central and South America. Vancouverites, in particular, are in for a spectacular treat, positioned to witness up to 75% of this captivating eclipse, which begins at 8:08 am, peaks at 9:20 am, and concludes at 10:38 am (local time). 
Looking ahead to April 8, 2024, a total solar eclipse will enchant sky gazers in Eastern Canada. This eclipse's trajectory will weave through Ontario, Quebec, New Brunswick, PEI, Cape Breton, and Newfoundland, presenting a rare spectacle where the moon entirely hides the sun. 
Both events are creating a buzz of excitement in the Department of Physics & Astronomy and through our international community of astronomers. 
Jaymie Matthews, an emeritus Astronomer in the Department of Physics and Astronomy, doesn't shy away from confessing his addiction to celestial events. Already booked on a flight to Sherbrooke, Quebec, for the total eclipse in April 2024, this will mark his seventh eclipse viewing. "Believe me, astronomers are space tourists as well," he chuckles. "We understand eclipses thoroughly, but these events still thrill us because it's an absolutely fantastic show."
Arif Babul, an Astrophysicist at UVic, can hardly contain his enthusiasm for both the October and April celestial displays. According to him, nothing is as "mind-blowing and eerie as a total eclipse", describing the experience as having a peculiar "twilight" feel. He notes the atmospheric changes—birds chirping, the wind picking up, and the dimming light giving the impression of evening, even in the middle of the day. His recommendation is clear: find a spot along the April 2024 eclipse path for a "spectacular" and "mystical experience" that might just ignite a passion for chasing eclipses around the world.
Maude Larivière, a PHAS graduate student in Astronomy, spent her summer working at an observatory in southern Quebec in Mont Mégantic National Park. She's eagerly anticipating returning in April to work as an interpreter for the April 8th eclipse event. When asked about the allure of eclipses, she offers a more poetic perspective: "It's a moment where humans can commune with the cosmos. We get to witness celestial movements at a time in our history when we can truly comprehend them." 
While total eclipses are presently an annual occurrence, Larivière notes their impermanence, explaining, "a total eclipse is contingent on the moon's orbit, which recedes 3.8 cm/year; millions of years from now, the moon will be too far away to fully cover the sun. Thankfully, this cosmic coincidence unfolds while [we] humans are here to see it, enjoy it and be in awe."
Safety First: Nobody should look at the sun with the naked eye!

*It is crucial to not look directly at the sun during the event, as the sun will not be entirely obscured. NASA advises against direct gazing at the sun without proper protection such as solar eclipse glasses or a pinhole projector.
 
Links & Resources:
Learn More:
Watch the Partial Solar Eclipse on UBC campus: Want to join us? You will find our team of PHAS astronomers in front of the UBC bookstore on Saturday, October 14th, starting at 8:00am with solar eclipse glasses and expert info. 

*CANCELLATION NOTICE*: Unfortunately, the eastern sky view seems to be cloudy with no breaks this morning. We need sun to make this work! Due to today's weather, we are cancelling the partial eclipse viewing event. We thank Discover the Universe for it's generous donation of solar eclipse glasses to use for this event and next year's event in April 2024!

Watch the Partial Solar Eclipse at the HR McMillan Space Centre