PHAS undergrad program coordinator Salena Li receives President's Staff Award
October 18, 2019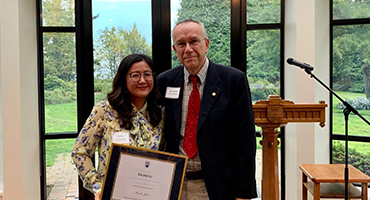 Congratulations to Salena Li, PHAS undergraduate program coordinator, for receiving the 2019 UBC President's Award in Emerging Leadership!
For many students, Salena Li is considered the best part of their UBC experience when navigating their degree. Every day she guides prospective and undergraduate students in Physics & Astronomy towards academic success. Her undergraduate students are faced with an overwhelming number of course options, as well as additional opportunities, such as co-op jobs and exchange years. These students need professional, reliable guidance from someone with a strong grasp of the entire system, and the person who best understands the UBC academic road map (one-way streets, roadworks, alleyways, accident hot-spots and all) is Salena.
Salena also received the Faculty of Science staff award in 2016. 
We are so excited for Salena, and are glad that her contributions are being recognized. Congratulations again Salena! 
For the full award citation, visit the President's Staff Awards website.