PHAS students took on Three-Minute-Thesis challenge
March 23, 2022
Can you distill your thesis project into a three-minute presentation for someone without a physics or astronomy background? That's the challenge students face in the three-minute-thesis competition. This year, several PHAS students took up this challenge. PHAS graduate students Simone Hagey and Emilie Carpentier advanced to the official UBC Semi Final organized by UBC Graduate and Postdoctoral Studies; both will also be moving forward to the UBC Finale with their presentations "The Death Spiral of Hot Jupiters" and "Liver Cancer? No need to hold your breath for a cure!" respectively. Congratulations both! Anyone interested in cheering Simone and Emilie on virtually can register to watch the Finale online.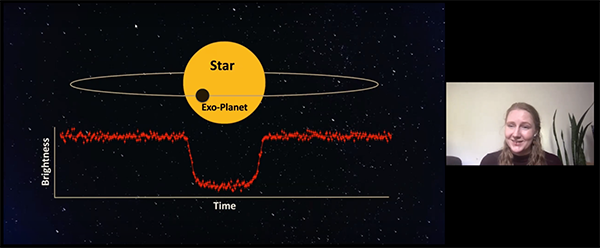 Emilie advances to the @UBCGradSchool #3MT Finals on Wed, March 30, 12pm. She's our top pick and the audience agreed with a People's Choice Award! Register to attend and find out why there's "No need to hold your breath for a cure." #medphys #womenwhocuriehttps://t.co/rOgqMOw3EU pic.twitter.com/QbWT5t0gmG

— Vancouver Radiation Medicine (@VanRadMed) March 9, 2022
*****
In addition to the official 3MT annual competition for graduate students held at more than 200 universities worldwide, there is also an undergraduate event organized independently by UBC students. Two PHAS students, Shannon MacFarland and Tammy Do, were selected to participate in the Final on March 5, and shared their experiences.
"It was a really great exercise to summarize several months of work into 3 minutes, decide what's important to share and what's of interest to people who aren't necessarily in my field," said Tammy. "I got great feedback after the first round which was really helpful for me to better understand the audience I was pitching to." Shannon agreed, and added, "my advice to anyone thinking about entering is to focus on the why: what about your work is important and how do your methods tie back to the big picture?"
Shannon and Tammy knew each other before the competition, and found that it was great to be able to support each other during the event. "It was very reassuring to have someone else from PHAS there so we could cheer each other on," said Shannon. Both noted the opportunity was a valuable experience, and encouraged other students to consider participating in the future. 
You can watch Shannon and Tammy's presentations (Tammy at 12:45; Shannon at 23:42), and read their abstracts below: