PHAS students Kelton Whiteaker and Robin Hayes win student talk prizes at TRU Virtual Physics Conference
June 25, 2020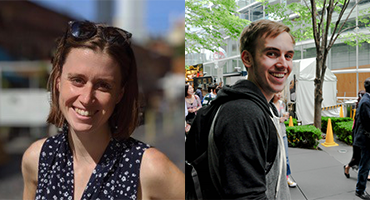 Congratulations to UBC PHAS students Kelton Whiteaker and Robin Hayes for their award winning conference talks at the Thompson Rivers University Virtual Physics Conference in May 2020.
Kelton Whiteaker, (Honours Physics undergraduate student), and Robin Hayes (Physics PhD student) both won cash prizes for their top 3 finish in the Thompson Rivers University Virtual Physics Conference 2020 Student Talk Competition.
Originally, Thompson Rivers University in Kamloops was to host the American Physics Society's Annual Northwest Section meeting in May 2020, but COVID-19 postponed the "real life" conference to next year. So an alternate conference proceeded in VirBELA, a virtual reality application that simulates a real-life conference. Participants used avatars, allowing them to sit in the auditorium attending talks, hold conversations and network with other participants during coffee and lunch breaks.
About 70 participants from across Canada (plus a few internationals) enjoyed Physics and Astronomy talks by invited experts as well as contributed talks. PHAS PhD student Dominique Trischuk was one of the conference co-organizers.
Congratulations again Kelton and Robin!