PHAS student wins Outstanding Presentation Award at 2023 Canadian Conference for Undergraduate Women in Physics
February 2, 2023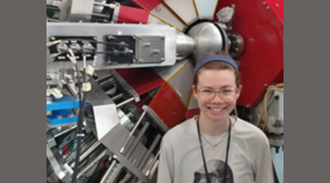 A version of this story was originally published by TRIUMF on January 30, 2023. 
We are pleased to announce that PHAS student Emma Raleigh-Smith was the recipient of an Outstanding Presentation Award for her presentation on 'TIGRESS and gamma-ray spectroscopy' at the 2023 Canadian Conference for Undergraduate Women in Physics (CCUWiP) held this year in Regina, Saskatchewan. 
The CCUWiP is an annual 3-day event for undergraduate physics and engineering physics students, researchers and professionals to present research findings, network, participate in lectures and poster sessions, and explore career directions. 
Emma has been part of the TRIUMF community as a co-op student under supervisor, TRIUMF Research Scientist Greg Hackman. Having the chance to present her research on the TRIUMF TIGRESS detector maintenance and operations to a larger science audience was both an educational experience, and an excellent opportunity for Emma to impart her understanding of theoretical concepts and experiences with the experimental work happening at TRIUMF.
A 4th year Physics Major, Emma will continue her co-op placement at TRIUMF this term, analyzing in-beam data with postdoctoral researcher, Jonathan Williams. 
Congratulations, Emma, on your CCIWiP award!
Learn More
View the original TRIUMF article
Read more about the TRIUMF Co-op Program
Read more about the TRIUMF TIGRESS Facility