PHAS Student Éloïse Faehndrich wins 2022 CAP Allan Carswell Physics Educator Scholarship
February 1, 2023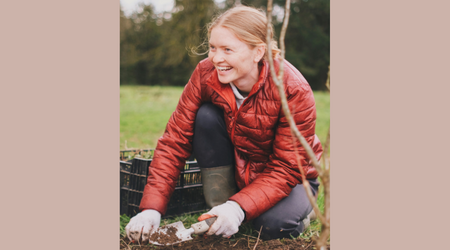 A version of this story originally appeared on the CAP 2022 Allan Carswell Physics Educator Scholarship Press Release published in December, 2022.
The PHAS Department sends a big congratulations to PHAS student Éloïse Faehndrich, for winning the 2022 Canadian Association of Physicists (CAP) Allan Carswell Physics Educator Scholarship, recognizing her excellence in academics, and her passion and skills in physics and physics education.
Currently in the UBC BEd Secondary Education program, Éloïse completed her BSc Major in Physics with a minor in Astronomy. She will use this scholarship fund, valued at $5000, to fully focus on her studies in physics education at the secondary school level.
What first led her to physics? As Éloïse explains, as a child it was the love of being a detective and unraveling mysteries of the universe. Now with a focus on teaching physics to others, she will be well positioned to engage youth into pushing the edges of their known universe through science, curiosity, passion and discovery. Her goal? Great lesson plans and getting students inspired about physics!
Congratulations Éloïse on receiving this top award!
Learn More
To read the full press release from CAP, please see here.
About the Allan Carswell Physics Educator Scholarships
The Allan Carswell Physics Educator scholarships are generously funded from the Carswell Family Foundation with the aim to acknowledge and support future physics educators, and to raise awareness about the importance of physics education and its value to inspire students to succeed in physics at a university level.
Inspired by the versatility of Physics degrees which can lead to Business, Academia, or Industry, this scholarship highlights careers in Science Education, supporting future science educators and communicators.
Links