PHAS researcher receives CFI JELF funding to advance therapeutics research and development
August 12, 2021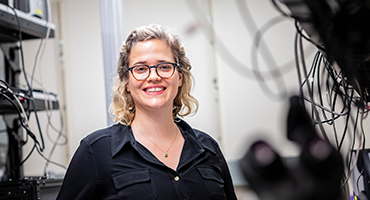 UBC Physics & Astronomy Associate Professor Sabrina Leslie has been awarded funding to set up a single-molecule and single-cell microscopy platform for therapeutics research and development. The project is funded through the Canada Foundation for Innovation (CFI) John R. Evans Leaders Fund (JELF) ($462K), with matching funds from the British Columbia Knowledge Development Fund (BCKDF) and additional support from other funding partners. This laboratory is among the 37 selected to receive a total of $5.7M CFI JELF investment here at UBC. 
"The funds will be used to purchase infrastructure that will be housed in the Michael Smith Labs and will support research efforts of the Leslie lab," said Dr. Sabrina Leslie on the significance of the funding support. "Through the use of this equipment, the Leslie lab will generate data on biomolecular interactions with unprecedented single-molecule resolution that will accelerate pharmaceutical development and enable fundamental discoveries in biophysics and molecular biology."
About the project
Single-molecule and Single-cell Microscopy Platform for Therapeutics Research and Development
"The development of next-generation medicines requires new measurement capabilities with single-molecule and single-cell resolution. We will build two single-molecule microscopy stations optimized to effectively study the interactions of new drug candidates with their target molecules and with live cells. This research will leverage our unique single-molecule technology and expertise to make fundamental biophysical discoveries, advance the creation of new medicines, train the next generation of scientists for interdisciplinary research and grow high-impact collaborations across academia and industry."
About the CFI John R. Evans Leaders Fund
The Government of Canada through the Canada Foundation for Innovation (CFI) is giving more than $77 million in funding to support 332 research infrastructure projects at 50 universities across the country. This contribution, through the Canada Foundation for Innovation's (CFI) John R. Evans Leaders Fund (JELF), will help universities attract and retain top researchers.
"Our researchers have always thought big," said the Honourable Francois-Philippe Champagne, Minister of Innovation, Science and Industry. "Now, more than ever, they need state-of-the-art labs and equipment to turn their visions into reality. Investing in our university research infrastructure is key to our continuing role as an innovation leader in wide-ranging fields, from Indigenous research to quantum computing, from neurobiology to advanced robotics. These investments will not only support our ground-breaking contributions to science and research but also improve our economy, environment and quality of life."
"From developing sustainable building materials to creating new laboratories based on Indigenous principles and community engagement, these awards support essential and urgent research, " shared Roseann O'Reilly Runte, President and CEO, Canada Foundation for Innovation. "With the necessary spaces and tools, Canada's researchers will play a meaningful role on the global stage and contribute significantly the quality of life today and for generations to come."
Read more