PHAS Marcello Pavan, Valery Milner, and Jeff Bale awarded UBC Killam Teaching Awards
May 22, 2019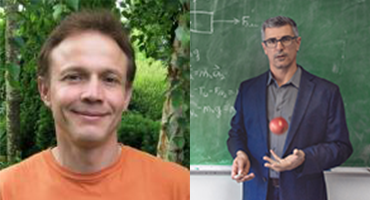 Congratulations to PHAS lecturer Dr. Marcello Pavan and associate professor Dr. Valery Milner, who were awarded the 2018/19 UBC Killam Teaching Prize! The annual award recognizes faculty who demonstrate excellence in teaching. Nominations are made by students, alumni and faculty. 
Marcello has been a sessional lecturer with the Department since 2002, and took on the responsibility of teaching Physics 100 in fall 2012. Physics 100 is an introductory course for students who have not taken senior high school physics, and caters to a broad spectrum of students who generally do not intend to pursue either physics or engineering.
"One of my ritual reminders is that I'm not actually here to 'teach' – I'm here to help students learn," said Marcello in a recent interview with TRIUMF. "I find that there are two simple but looming obstacles for students: to show up, and to be willing and active in furthering their own learning. With those two boxes checked, I can maximize their potential as self-activated learners. I might even go on to convince them physics isn't evil, and further that it might be interesting and useful in their everyday life."
Associate professor Dr. Valery Milner joined the department in 2010 and took on teaching responsibilities. He was nominated for teaching Physics 101 Energy and Waves, an introductory physics course for non-science majors. "I love teaching and I am honored to be recognized by this prestigious award," said Valery.
In addition to Valery and Marcello's awards, Jeff Bale also received the Killam Graduate Teaching Assistant Award. Jeff has been involved in the Physics and Astronomy's TA Mentorship program. He is currently a facilitator for the graduate student team at UBC's Center for Teaching Learning and Technology (CTLT), and is a recent graduate of the Certificate of Advanced Teaching and Learning. Jeff's approach to teaching is using research-supported methods to ensure alignment between learning activities and learning objectives. Jeff firmly believes in the importance of " creating an atmosphere where students are able to take charge of their own learning, starting with creating an equitable, inclusive, and safe place" for his students.
Congratulations again to Valery, Marcello, and Jeff!
Related links: