Luis Sobrino (1929 - 2019)
December 9, 2019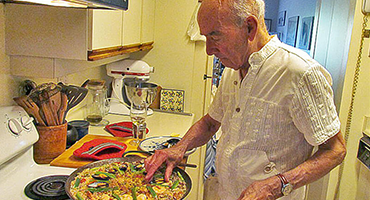 It is with great sadness that we announce the passing of Professor Emeritus Luis Sobrino.
Luis Gonzaga de Sobrino y Sierra was born in Cadiz, Spain in 1929. While serving in the Spanish navy during the Franco regime, Luis took an unauthorized leave in 1957 to pursue an MSc and PhD in Nuclear Engineering at the Massachusetts Institute of Technology. Upon completing his Doctorate in 1960, he accepted a teaching position in the Physics Department at the University of British Columbia, became a full professor in 1968, and remained at UBC until his retirement in 1995.
A founder of the Arts One and later Science One programs, he was also active in the peace movement as a founding member of the Vancouver Science for Peace Chapter, and as an advisory board member with Physicians for Social Responsibility. Luis and his wife Margara lived their values of justice and fairness every day and instilled those values in their four children: Pablo (Jennifer Spence), Pedro (Anna), Miriam (Bruce Ralston) and Monique; and nine grandchildren: Sasha (Zac Prinsloo), Stefan (Erin Noseworthy), Daniel, Martin, Micaela (Kyle Patton), Alejandro, Sonia, Simone, and Renée.
For the full obituary, please visit the Luis and Margara's remembering.ca page.
Celebration of Life
We will celebrate Luis and Margara at a gathering on December 23, 2019. Please email Miriam at mts56266@gmail.com for details.