Launchpad program launches equity-deserving students toward success in grad school
February 24, 2022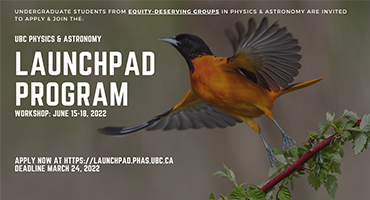 A new program from the Department of Physics and Astronomy at the University of British Columbia (UBC) will connect undergraduate students and recent graduates with the experience and information they need to thrive in graduate physics programs at UBC. The Launchpad Program was developed by faculty members, research scientists, graduate students, postdoctoral fellows and staff members from UBC Physics & Astronomy, the Stewart Blusson Quantum Matter Institute (Blusson QMI), and TRIUMF with a goal to foster diversity of graduate students and, longer term, to address inequities in physics programs.
The Launchpad Program has been designed for equity-deserving students in physics and astronomy, who are women or non-binary, Black, Indigenous, and People of Color (BIPOC), 2SLGBTQ+, living with disabilities, and/or are in the first generation in their family to attend university. The program is for undergraduate students or recent graduates who are eligible for admission to physics, astronomy, medical physics or engineering physics graduate programs at UBC in 2023 or 2024.
The program consists of a four-day workshop, as well as mentorship to support students through the process of applying to graduate programs. In addition to providing planning support and workshop content, physics and astronomy labs at UBC, Blusson QMI, and TRIUMF will open their doors to tours for program participants.
"In this program, students in equity-deserving groups will learn about physics and astronomy research, student life at UBC and how to prepare their graduate program application through workshops and a mentorship program. It is a high priority [for UBC Physics & Astronomy] to create a clear pathway for everyone to apply to and be successful in graduate school at UBC." said Adele Ruosi, Science Education Specialist in Physics and Astronomy. "It is so inspiring to see the number of applications growing, and to receive applications from students studying not just in Canada, but from Nigeria and Tanzania, and all around the world," said Ruosi.
"We are proud to support this initiative to reach out early to underserved groups to help them consider their options for graduate studies and illuminate the process," said Sarah Burke, who serves on the Launchpad Executive Committee and has been involved throughout the planning process. "We hope this program will ease the transition from undergraduate to graduate studies for those that may be lacking other sources of support."
In order to ensure the program is accessible, there are no fees to apply, and travel costs will be covered for participants from outside of Vancouver (Canada, US, Mexico); the program will run remotely for those who wish to participate from elsewhere in the world. Funding from the program comes from UBC's Equity & Inclusion Office through its Enhancement Equity Fund, with additional financial contributions from UBC Physics & Astronomy, the Stewart Blusson Quantum Matter Institute, and the UBC Student Diverse Initiative.
Applications are due by March 24, 2022; the program will run in person and virtually from June 15 to 18, 2022. For more information, including how to apply, visit launchpad.phas.ubc.ca.