Jochen Meyer (1938-2021)
September 23, 2021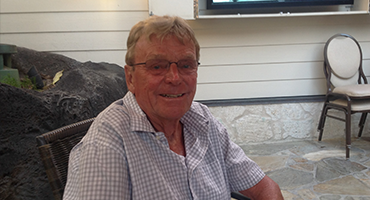 It is with great sadness we announce that Professor Emeritus Dr. Jochen Meyer passed away on Tuesday, September 7, 2021. Jochen was a key member of our Plasma Physics group since joining UBC in 1968 until retiring in 2003. 
Jochen was born and raised in northern Germany by the Baltic Sea. He attended the University of Kiel graduating with a PhD in physics in 1964. Soon after he married Annegret. Together they journeyed by boat to Australia where Jochen started a three-year position as a research fellow at the University of New England in Armidale, NSW. In the Spring of 1968, he started his long-held tenure with the UBC Physics Department. Here he joined the Plasma Group working on plasma spectroscopy projects, ultrafast Plasma dynamics, and sub-picosecond laser pulses. During his UBC career, Jochen took three sabbaticals, doing research at the Max Planck Institute in Garching, near Munich.
After some time in Canada Jochen became a dual citizen. However he never forgot his homeland, Germany. Through the years he travelled home to visit family and friends frequently. He never missed any of his many high school class reunions in his hometown of Kappeln in the northern province of Schleswig-Holstein.
Jochen had many passions. Even before retiring from UBC in 2003, he turned his passion for skiing into a 10-year career as a ski instructor at Whistler Mountain. He loved to say, "from a university professor to a ski-bum." Jochen also was a great cook, especially preparing meals for the weekly family dinners . Jochen also loved the sea. Through the years he fished, he kayaked, he windsurfend, and navigated the seas in any way he could. On yearly visits to Waikiki, Hawaii, Jochen could be found sailing daily on his favourite Catamaran. In his last years he found solace riding his mobility scooter regularly along Jericho, Locarno and Spanish Banks. The sea brought him peace.
Jochen was a strong man and athlete who lived his life to the fullest. In 2010 he had emergency surgery for a bleeding stomach ulcer. Sepsis set in and Jochen spent three months at VGH fighting for his life. His strength, resolve, and will to live brought him through, and we feel fortunate to have been given an extra 11 years with him. However, this complicated hospital admission took its toll on his lungs. He bravely battled COPD but lost the fight in the end.
Mourning his passing are his wife of 57 years, Annegret Meyer, and their children Tanya (Michael), Kirsten (Robert), Nils Peter, and grandchildren Owen (Ashton), Laurel, Lukas, Sophia and Joshua.
A celebration of life is planned for the new year once the Covid crisis is under control. We will update this page with additional information when it becomes available. At UBC, the BC, Musqueam and UBC flags (at the North Plaza of the Life Building) was lowered on September 24, 2021 in remembrance of Jochen.