Hunting for quantum butterflies
2023-04-06T16:00:00
2023-04-06T17:00:00
Speaker:
Shohini Ghose (Wilfrid Laurier)
Intended Audience:
Undergraduate
Local Contact:
Georg Rieger (rieger@phas.ubc.ca) and Jess McIver (mciver@phas.ubc.ca)
*All are welcome at this event!
Event Information:
Abstract:
Unpredictability manifests itself in very different ways at the classical and the quantum level. This has led to long-standing open questions, including the connection between chaos theory and quantum mechanics. Recent advances in quantum computing have made it possible to study foundational questions about the quantum-classical boundary in an experimental setting. This talk will discuss our explorations of chaos and quantum-classical correspondence in the context of quantum information science, and the surprising connections between the quantum and classical world.
 
Bio: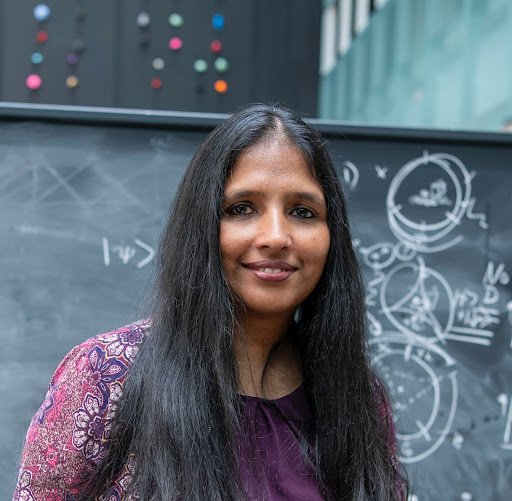 Shohini Ghose wanted to be an explorer like Rakesh Sharma, the first Indian to go to space. She hasn't made it to space yet, but she did become an explorer of the quantum world as a Professor of physics and computer science and NSERC Chair for Women in Science and Engineering at Wilfrid Laurier University. Her research is in the field of quantum information science, and she and her colleagues were the first to observe signatures of chaos in quantum entanglement. Shohini aims to create an inclusive scientific community in Canada as the Director of the Laurier Centre for Women in Science (WinS). She is a TED Senior Fellow and in 2017 she was selected to the College of the Royal Society of Canada. Her TED talks and other online videos have received over 5 million views, and her recent article on quantum computing was featured in the Harvard Business Review's Year in Tech 2022. In 2021, she was appointed to the Scientific Board of the UNESCO International Basic Science Program. She still dreams of going to space.
Learn More:
View Shohini's faculty webpage here
See Shohini's Ted Talk, "A beginner's guide to quantum computing" here
See Shohini's public lecture (video) on "The quantum revolution", hosted by the Perimeter Institute here
Read an interview with Shohini on "The future of quantum computing" (Bosch) here
Add to Calendar
2023-04-06T16:00:00
2023-04-06T17:00:00
Hunting for quantum butterflies
Event Information: Abstract: Unpredictability manifests itself in very different ways at the classical and the quantum level. This has led to long-standing open questions, including the connection between chaos theory and quantum mechanics. Recent advances in quantum computing have made it possible to study foundational questions about the quantum-classical boundary in an experimental setting. This talk will discuss our explorations of chaos and quantum-classical correspondence in the context of quantum information science, and the surprising connections between the quantum and classical world.  Bio: Shohini Ghose wanted to be an explorer like Rakesh Sharma, the first Indian to go to space. She hasn't made it to space yet, but she did become an explorer of the quantum world as a Professor of physics and computer science and NSERC Chair for Women in Science and Engineering at Wilfrid Laurier University. Her research is in the field of quantum information science, and she and her colleagues were the first to observe signatures of chaos in quantum entanglement. Shohini aims to create an inclusive scientific community in Canada as the Director of the Laurier Centre for Women in Science (WinS). She is a TED Senior Fellow and in 2017 she was selected to the College of the Royal Society of Canada. Her TED talks and other online videos have received over 5 million views, and her recent article on quantum computing was featured in the Harvard Business Review's Year in Tech 2022. In 2021, she was appointed to the Scientific Board of the UNESCO International Basic Science Program. She still dreams of going to space. Learn More: View Shohini's faculty webpage here See Shohini's Ted Talk, "A beginner's guide to quantum computing" here See Shohini's public lecture (video) on "The quantum revolution", hosted by the Perimeter Institute here Read an interview with Shohini on "The future of quantum computing" (Bosch) here      
Event Location: HENN 201