"Humans of PHAS - stories behind UBC physicists and astronomers" website launched
March 21, 2022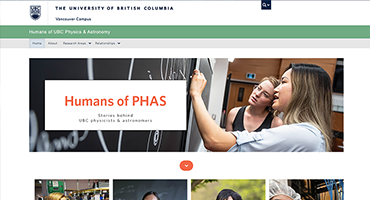 Have you ever wondered how physicists or astronomers become who they are now? What could their stories be – Have they always wanted to be physicists or astronomers? Did they face any obstacles and challenges? What are they working on...and what motivates them every day?
The Department of Physics & Astronomy is launching Humans of PHAS, a project inspired by the Humans of New York. We will be sharing stories of the people who have been part of the department – professors, staff, students, and alumni – and explore where they came from and where they are going in the future. These stories will be featured on the Humans of PHAS website, through physical posters in department buildings, and through social media channels. Visitors can also scan the QR codes on the posters to access specific stories.
This is an ongoing project. Interested in having your physics & astronomy story told? We encourage those who have walked down the halls of Hennings and Hebb to let us know your story.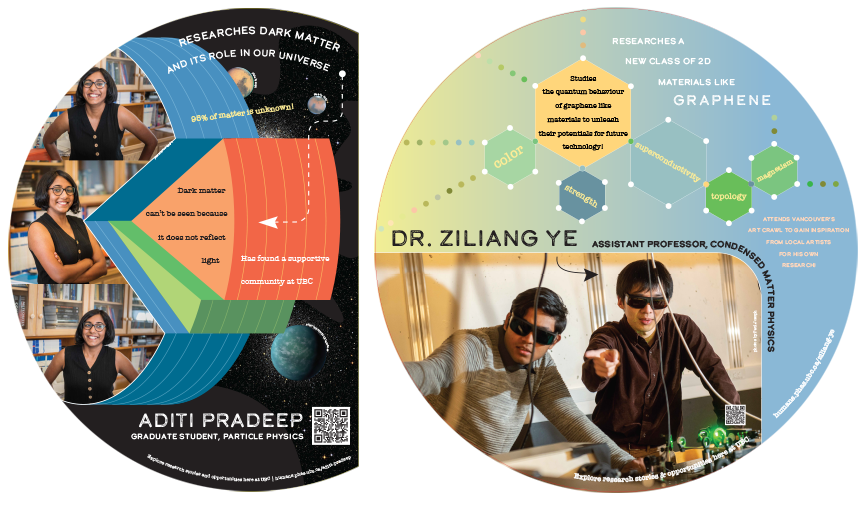 About Humans of PHAS
This project is led by UBC Physics & Astronomy Assistant Professor Jess McIver and Communications Coordinator Theresa Liao, with the support of the UBC Equity & Inclusion in PHAS and UBC Department of Physics & Astronomy. 
All interviewees are current or past members of UBC Physics & Astronomy. Selected interviewees are featured by graphic posters displayed in UBC Physics & Astronomy buildings (Hennings and Hebb). This is an ongoing projects, with new interviews added regularly.
Participant interviews and graphic designs are by Kim Sawula, artist & graphic designer.