FYSRE students kicked off summer with research experiences
June 12, 2019
Three exceptional first year science students kicked off their summer with their FYSRE student research experiences at TRIUMF, Canada's particle accelerator centre. Congratulations to John Carpenter, Monica Luo, and Ryohei (Rio) Weil for receiving the 2019 Erich Vogt First Year Student Research Experience awards!
FYSRE (pronounced phyzzer, as in physics) is a program offering summer research experiences to budding academic stars after their First Year Physics courses. These research opportunities are hard to come by because priority is typically given to upper year students. This award honours Dr. Erich Vogt (1929-2014), one of the most distinguished Canadian nuclear physicists of his generation - who strongly believed that first year students with a passion for physics deserve a chance.
We look forward to hearing more about their experiences after the summer!
2019 Recipients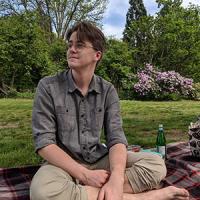 John Carpenter is working with Dr. Pietro Giampa, whose research focuses on the search for dark matter. John plans to enter the combined computer science and physics honours program next year. 
"TRIUMF is the place that inspired me to commit to studying physics so the opportunity to be working here is absolutely surreal for me," said John. "Working in a place like this, surrounded by groundbreaking research, is truly inspiring and having so many great professionals that I can learn from and work with is going to be fundamental to my development as a researcher and student of physics."
---
Monica Luo is working with Dr. Chris Ruiz of TRIUMF's Nuclear Astrophysics group. He is the group leader for the DRAGON facility, and an Adjunct Associate Professor at the University of Victoria. Monica just completed the Science One program, and plans to enter the combined honours in physics and math program in the future. 
"Receiving this award means a lot to me because it is an opportunity to gain research experience in my first year at university and get a better sense of how modern physics research is conducted. I'm excited to learn from everyone here at TRIUMF and see how theory taught in class connects to experiment."
---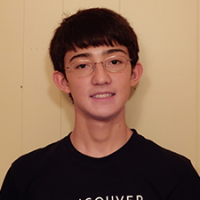 Rio Weil, also a Science One student, is working with Dr. Ania Kwiatkowski of the TITAN (TRIUMF's Ion Trap for Atomic and Nuclear science) team.  Rio is planning to enter the biophysics program next year.
Rio expressed his excitement about the unique opportunity to work at TRIUMF. "A year ago, I wouldn't have imagined myself going into physics, much less have the privilege to work in a facility at the forefront of scientific research. I am extremely excited to work with TITAN and help, even if just a little, to uncover some more knowledge of the mechanics of our universe. I am also excited to experience the experimental side of physics that you don't get to see in the classroom and to work with inspiring people to solve real-world problems and challenges where not everything is spherically symmetric, not all gases are ideal, and not every surface is frictionless."
---
Related links
More about the three recipients: TRIUMF Welcomes Three FYSRE Winners
If you would like to support this studentship opportunity, consider contributing to the FYSRE fund. Contact Theresa Liao at communications@phas.ubc.ca for more information.