FYSRE recipients shared their 2018 summer experience
January 4, 2019
The Erich Vogt First Year Summer Research Experience (FYSRE) has been providing research opportunities to first year students passionate about research in physics since 2014. The deadline this year is Jarnuary 31, 2019. We catch up with last year's recipients to learn what the experience was like.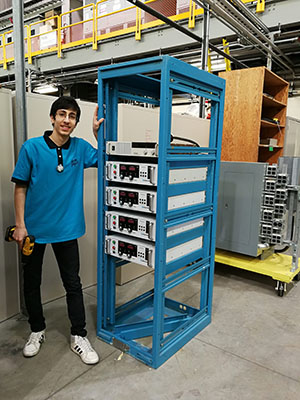 Pedram Amani (supervisor Dr. Alex Gottberg, TRIUMF)
Has this experience changed your mind about working/not working in Physics?
I had a strong passion for Physics prior to FYSRE and so, if anything, my experience working at TRIUMF furthered that passion. Working in such a diversified environment did however give me a much better understanding and appreciation of different areas of Physics. Particularly, it helped me realize my interest in pursuing a career in Applied Physics.
What were some new experiences you had that would not have been possible without FYSRE support?
With no prior research background, working at Canada's national particle accelerator center had much to offer. As part of the ARIEL development team (ARIEL is a new facility currently under development at TRIUMF), I got to work alongside many great physicists, engineers, technicians, etc. Observing a large team of talented people collaborate to further the forefront of science and being a part of this collaboration was a truly unique experience.
Any most memorable moments?
Summer 2018 was full of memory and excitement; both at work, when completing a project which I had dedicated the entirety of a month to, and outside of work, getting to explore Vancouver with the twenty-or-so other co-op students. But the most memorable moments of all were the ten minutes I conversed with the ARIEL project manager, a well-respected physicist from CERN, about my future. His words and his helpful guidance I will not forget.
And anything else you would like to add about working there?
Apart from what I mentioned, another aspect that you will appreciate is the emphasis TRIUMF has on student learning, with the student lectures, facility tours, and patient supervisors! All these make TRIUMF a great option for co-op.
Finally, I would like to thank the FYSRE award committee for making such an amazing experience possible for me.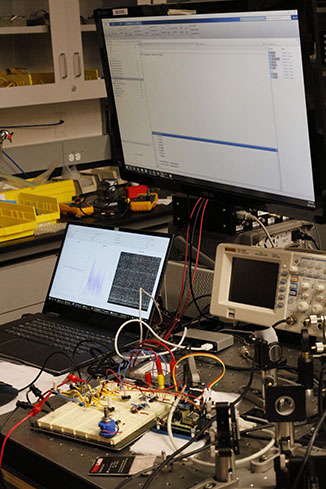 Jiayi Tang (Supervisor David Jones, UBC Physics & Astronomy)
Has this experience change your mind about working/not working in Physics?
The experience showed me that physics isn't all theoretical work. As an engineering physics student, it was really exciting to apply coursework in computer and electrical engineering to practical problems in the lab. I would definitely consider working as an engineering in a research setting in the future.
What were the new experiences you had that would not have been possible without FYSRE support?
Being in the lab and being directly involved was a great experience. I encountered many technical problems in the lab, and I also got a lot of freedom to create solutions on the fly. Soldering circuits and using the software that I learned in school in a research setting were some great real world experiences.
Any most memorable moments?
On my last day, I was able to attach a mirror to a speaker and use the software I wrote for a position-sensitive laser detector (PSD) to record the audio played through the speaker. This was a great proof of concept because the PSD was intended to record any vibrations present on the lab bench, and the audio recovered through this rudimentary laser microphone was very recognizable, demonstrating that the vibrations were accurately captured at a high sampling rate. It was very rewarding to see all of my work come together in this way.
And anything else you would like you add about working there.
It was a great learning experience to work with all of the researchers in the lab. Obviously, I was the least experienced and knowledgeable person in the room, but my questions and suggestions were always taken seriously. Often, I would be facing a problem, and after describing it to the others, they would suggest some solutions and approaches that I never would have thought of. This gives me a goal to aim toward in the future, to achieve a breadth of technical knowledge to be able to solve problems with diverse approaches on the spot.