Engineering technician Bernhard Zender receives President's Service Award for Excellence
September 10, 2020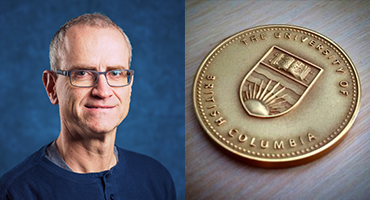 Congratulations to PHAS engineering technician Bernhard Zender for receiving the 2020 President's Service Award of Excellence!
Here is the full citation for his award
***
Bernhard Zender is described as "…one of those rare individuals in our community that simply loves teaching, loves supporting students in their learning, and loves his job." His passion is at the core of the Project Lab in Engineering Physics, and he has been able to use his expertise in technology, prototyping and robotics to ignite enthusiasm in others.
Bernhard is incredibly excited about education and learning within his highly-specialized field and this fuels his excellence in a very technical and demanding environment. His students and colleagues call him an integral member of the Engineering Physics program. He has developed workshops, activities and core course material for first year engineering students. He supports many student projects, advises and assists student engineering design teams, and expresses great care for students' individual interests and pursuits.
Throughout the year, Bernhard avidly participates in frequent outreach activities, which have a profound and immediate influence on all high school and UBC students that participate. Whether on campus or in the community, he is an outstanding advocate for UBC Engineering Physics and values promoting the program to the fullest.
Bernhard consistently and tirelessly devotes his summers to volunteering with ENPH 253, a six-week robot competition course that takes place in the summer term. He devotes countless hours to the organizing, set up and implementation of this course, as well as the training of students and maintenance of essential tools and equipment. This robot competition course has been described as a rite of passage for all Engineering Physics undergrad students, and it acts as a cornerstone event in Engineering at UBC, serving as a catalyst for strengthening relationships among teams and department members.
***
Bernhard mentioned that he has had such a wonderful time working with the Engineering Physics students, that he thinks the students themselves deserve an award. He can't wait for things to be back to normal as he really miss face to face interaction with our students.
Congratulatoins Bernhard! It is pretty rare company you are in now!
About the UBC President's Service Award for Excellence
The President's Service Award for Excellence is presented each year to up to five outstanding staff members. The PSAE acknowledges staff who have made outstanding contributions to UBC, and who excel in their personal achievements.
Read more