David Llewelyn Williams (1937 - 2021)
June 14, 2021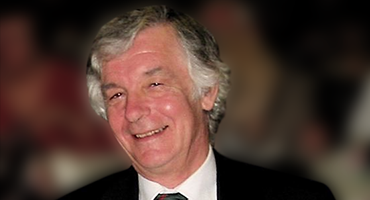 It is with great sadness we announce that on Sunday, May 23, 2021, Professor Emeritus David Llewelyn Williams passed away after being diagnosed with ALS in December. He pioneered the NMR studies of metallic single crystals, and with Garth Jones studied the electron distribution in alloys using angular correlation of gamma rays from positron annihilation. He was the Department Head bewteen 1982-1987.
David Llewelyn was born in 1937 in the seaside resort of Prestatyn, Wales. His family instilled in him values of learning, education and service; combined with a natural curiosity, he went on to an undergraduate degree from Bangor University, Wales, and a Ph.D. from the University of Cambridge, England.
David Llewelyn is predeceased by his wife, Uta; survived by his two sons, Marc (Joyce) and Nicolas (Jennifer); grandchildren Hugh, Dylan, and Nova; second cousin, Wyn Lewis-Bevan (Lan) and close friend Patricia Morris as well as many lifelong friends in the scientific and Welsh communities.
Marc, Nicolas and Patricia were fortunate to be by his side at his home to say a brief goodbye.
David Llewelyn came to Canada in 1960 as a National Research Council of Canada Postdoctoral Fellow at the University of British Columbia where he worked for 42 years until his retirement.
During his time at the University he had much success, becoming a full professor at age 34, and later the Head of the Physics Department.
His research focused on low temperature physics and superconductivity, participating in conferences worldwide, writing not only many academic papers, but even some pages in an encyclopedia. He continued to build scientific relationships through sabbaticals in Denmark, Switzerland and locally at TRIUMF.
Outside of his research and the Physics Department but still at the University he was the Associate Dean of Graduate Studies; served on the UBC Senate for 19 years, chaired many committees and was awarded the President's Service Award of Excellence in 1994.
He had always remained loyal to his heritage, participating in the Vancouver Welsh Society, as the newsletter editor and president. The Welsh Society Christmas event was always a family favourite.
A personal passion of his was Welsh poetry. He took part in and adjudicated poetry competitions, winning several.
He enjoyed sailing, skiing and especially golf. He very much liked his foursome of friends and continued to play golf until February of this year.
Most of all, he enjoyed spending time with his grandchildren. Taking them to soccer practice, Science World, other excursions, or just reading to them.
David Llewelyn will be greatly missed and always remembered.
A Celebration of David's life
A Celebration of Life will be held in the coming months when public health conditions permit. Please visit www.kearneyfs.com to see updated information as it becomes available. 
The BC, Musqueam and UBC flags (at the North Plaza of the Life Building) was lowered on Monday, June 7, 2021 in remembrance. Read the UBC flag lowering notification.