Bridget Hamilton Defines Dedication with 35-Year Service Award
November 6, 2023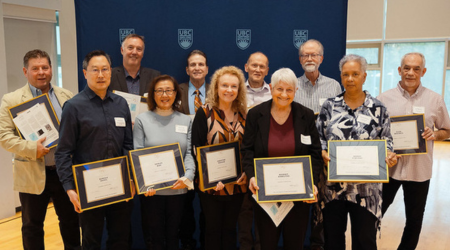 It is our pleasure to announce the outstanding achievement of PHAS staff member Bridget Hamilton, a valued member of the PHAS administrative team, as the recipient of a 35-year UBC Staff Service Award for more than three decades of administrative service to UBC. 
The UBC 25 Year Club recognizes non-faculty staff who have 25 years of accumulated service, and has recently expanded to celebrate staff who have achieved 35, 40 and 50 years of active service. 
This year, the 25 Year Club held a celebration at the NEST, graciously hosted by Steve Bohren and Eilis Courtney, President and Vice-President of the club. During this event, the 25, 35, 40, and 50-year Honourees were recognized by Deborah Buszard, UBC Interim President and Vice-Chancellor, and Marcia Buchholz, VP of Human Resources.
All new members were presented with gift certificates, a UBC membership card and a certificate of service from the University.
Bridget's dedicated service at the PHAS Department commenced in 1988 as a secretary to multiple faculty members involving tasks such as preparing C.V.'s and exams, which gradually evolved into handling general reception duties and front desk responsibilities. Over her impressive 35-year tenure, Bridget has adeptly navigated the transition from traditional paper and fax machines to Workday and room booking systems.
As an invaluable member of the administrative staff, Bridget has been a constant support through the tenures of five Department Heads, aiding thousands of students, and assisting numerous staff and faculty members over the past three decades. Her exceptional customer service at the front desk has been pivotal in coordinating, managing, and assisting with various in-house events, students, and staff.
Bridget's passion for learning is evident in her attendance at Physics & Astronomy lectures and events, where she stays abreast of the evolving research within the department. Her remarkable memory for departmental details, locations, and historical knowledge within the Hennings building is truly remarkable.
Beyond her professional endeavors, Bridget is an avid world traveler, having explored 36 countries and has even braved 17,000 ft of Mount Everest. Her flair for acting has also shone through, particularly in her memorable Dame Edna Christmas party skit interviews with PHAS faculty.
Congratulations, Bridget! Your unwavering dedication and invaluable contributions to the PHAS family are deeply appreciated and truly commendable.
Links & Resources: