Alannah Hallas Named Killam Prize Winner for Teaching & Research Excellence
June 9, 2023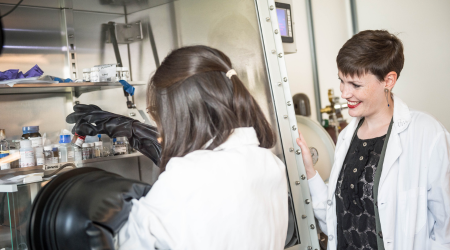 The Department of Physics & Astronomy is proud to congratulate faculty member Dr. Alannah Hallas for being one of 20 UBC faculty recipients of the distinguished 2022/23 Killam Teaching Prize! The Killam Prize award is presented annually to faculty who have been nominated for their excellence in teaching by peers, students and alumni. Alannah has exhibited a remarkable commitment to excellence in teaching, making her a deserving recipient of this award.
As an Assistant Professor in the Department of Physics & Astronomy at UBC, Alannah brings a unique blend of expertise in Chemistry and Physics to her role. Since joining the department in 2019, she has made a significant impact in mentoring undergraduate and graduate students, conducting research projects, and delivering engaging lectures and classes. Her dedication to teaching and her ability to effectively communicate complex scientific concepts have inspired and influenced numerous students and colleagues.
Beyond her teaching responsibilities, Alannah is also actively involved in ground-breaking research at the Stewart Blusson Quantum Matter Institute (SBQMI). In 2019, she established the Quantum Materials Design Lab, where her team focuses on growing crystals using materials not found in nature. Examining the quantum properties of these designed crystals has already led to some exciting discoveries in the search for materials with the potential to replace more expensive natural resources.
The National Killam Program, administered by the National Research Council of Canada (NRC), aims to foster advanced study in Canada by providing financial support to scholars who contribute to scientific achievement through outstanding research. Dr. Hallas' recognition as a recipient of the Killam Teaching Prize speaks volumes about her commitment to enhancing science education and her remarkable contributions to the field.
Alannah's passion for science communication and her dedication to mentoring students have had a profound impact on the scientific community. By effectively sharing her research, knowledge, and expertise, she has sparked active discussions on the value of her research, its implications, and the importance of funding. Her work not only advances scientific knowledge but also prepares the next generation of researchers to contribute to educational and technological growth.
Congratulations again, Alannah!
Related UBC News:
Learn more: