2020 PHAS staff service awards announced
February 3, 2021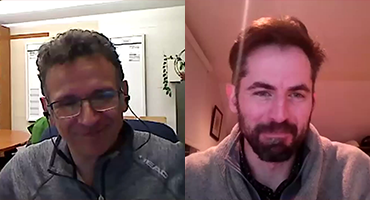 Congratulations to PHAS Technical Services Director Mladen Bumbulovic and Engineering Physics Project Lab Director Dylan Gunn for receiving the 2020 UBC Physics & Astronomy Staff Awards! 
Mladen joined the department in May 2019. As the technical services director, he serves as the lead engineer for the department and supervises all aspects of the department's technical support, including but not limited to mechanical shop, electronics lab, and IT operation. His work has led to significant impacts on the quality and effectiveness of the work by the technical support team. In addition, he and his team have been essential in the continued operation of critical functions of the department.
Dylan joined the department in January 2018 as the engineering physics project lab director. Dylan brought his strong industrial experience to further enhance the experiences of our engineering physics students, and giving students insights into what a professional level organization operates like.
This award is presented on an annual basis to Physics and Astronomy staff members whose contributions in areas such as service, administration and leadership have had a significant and positive impact in achieving the goals of the Department. The awards are announced each year during the departmental Christmas party. Here is the announcement of the awards during the department's holiday celebration event:
Thank you again Dylan and and Mladen for your contributions!