2019 PHAS Staff Service Awards Announced
January 21, 2020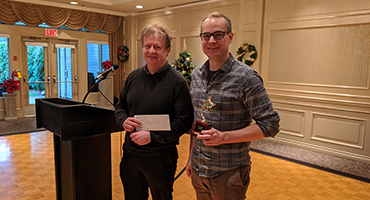 Congratulations to PHAS Finance Clerk John Ho and Electronics Engineer Mark Carlson for receiving the 2019 UBC Physics & Astronomy Staff Awards! John joined the department in 2014 as the Finance Clerk, and Mark has acted as the Electronics Engineer for the department since 2018. 
This award is presented on an annual basis to Physics and Astronomy staff members whose contributions in areas such as service, administration and leadership have had a significant and positive impact in achieving the goals of the Department. The awards are announced each year during the departmental Christmas party.
Thank you again John and Mark for your contributions!