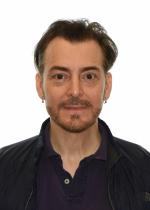 Tel (Office)
(604) 822-8813
Email

---
---
Students Wanted
willing to supervise
---
---
---
Bachelor's Degree
Rensselaer Polytechnic Institute, 1992, Physics
---
Master's Degree
University of Illinois,Urbana-Champaign, 1994, Physics
---
Doctoral Degree
University of Illinois,Urbana-Champaign, 1998, Physics
---
Employment History
NSF post-doctoral fellow in Bioinformatics, UCSD, 1998-2001; Canada Research Chair in Theoretical Molecular Biophysics, UBC 2001-2011; Associate Professor of Physics 2010-present.
---
Awards
Tier II Canada Research Chair in Theoretical Biomolecular Physics, University of British Columbia, Nov 2001-Nov 2005.
Alfred P. Sloan Research Fellow, 2005-2009. 
Renewal, Tier II Canada Research Chair, UBC, May 2006-2010
UBC Killam Faculty Research Fellowship, 2010.
Faculty of 1000 Designation for 5 of my articles, most recently in 2011. According to the F1000 manifest, this places these works in the top 2% of published articles in biology and medicine.
---
---
Research Field
Theory, Computation, and Experiment
---
Research Topics
Evolutionary Developmental Biology, Protein Misfolding & Aggregation, Molecular origins of neurodegenerative disease, Genetic networks, Coarse-graining in biomolecular modelling
---
Research Title
On the wild and wonderful world of biological physics:
---
Abstract
We do research at the interface of physics, molecular biology, cell biology, and genetics. 
Our interests range from the study of cell differentiation in developmental biology, to the evolution of genetic networks, to interactions, dynamics, and disorder in protein misfolding.
The Plotkin Research Group at UBC regularly seeks excellent students and post-doctoral fellows with outstanding academic records, and more importantly an unrelenting curiosity along with the motivation to experiment and investigate the consequences of a new idea. 
Our group members enjoy an exciting and interactive lab atmosphere, access to state-of-the-art computational and experimental resources, and the option for extensive collaborations with other research groups in physics, and the biological sciences. If you are a talented and self-motivated student or PDF who is interested in having a career in theoretical, computational, or experimental biophysics-- one the fastest growing interdisciplinary research areas in the sciences-- you may wish to consider joining us. We welcome NSERC and other scholarship holders and provide top-ups. For more information see http://www.physics.ubc.ca/~steve/prospective_students.html
---
---