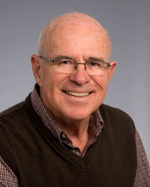 Position
Professor Emeritus
Tel (Office)
(604) 822-4360
Email
mcmillan@phas.ubc.ca
---
---
---
Bachelor's Degree
UBC, 1958, Honours Math and Physics
---
Master's Degree
UBC, 1959, Theoretical Physics
---
Doctoral Degree
McGill, 1961, Theoretical Physics
---
Employment History
Assistant Professor, Department of Physics, UBC (1963)
Associate Professor, Department of Physics, UBC (1966)
Professor, Department of Physics, UBC (1974)
Professor Emeritus, Department of Physics, UBC (2000)
---
Committees and Service
Assistant Dean of Science, UBC (1969-1971, 1985-1987)
Associate Dean of Science, UBC (1987-1990)
Director, Networks of Centres of Excellence Administration Office, UBC (1990-1997)
---
---
Research Area
Theoretical Physics
---
Research Field
Relativistic Quantum Mechanics
---
Abstract
My research interests have ranged over a variety of topics in theoretical physics. In chronological order these include:
determining the temperature dependence of the shape of paramagnetic resonance lines
applying the Boundary Condition Model of the nucleon-nucleon interaction to the nuclear many-body problem
investigating properties of Regge poles and Regge cuts in potential theory
applying Regge pole ideas to a calculation of nucleon electromagnetic form factors
calculating the triton wave function, the 3He charge form factor and the photodisintegration cross section of 3He
investigating octet enhancement in a model of vector mesons
determining Pauli-Principle effects in pion-nucleus scattering
calculating the differential cross section for pion-deuteron scattering at intermediate energies
constructing a new Hamiltonian for interacting nucleons and pions
investigating consequences of space-time invariances in quantum mechanics and direct interaction theories
dressing the Cloudy Bag Model of nucleons and pions: calculation of the second-order nucleon-nucleon potential
investigating the Lorentz boost of the Newton-Wigner-Pryce position operator
determining scattering equations for a coupled relativistic 2- and 3-body system
dressing a model of interacting fermions, antifermions and bosons
Quantum Leaps and Bounds
Quantum Leaps and Bounds is a six-volume set of lecture notes in book form for the introductory graduate quantum mechanics course I taught at UBC at various times between 1973 and 1998.
Relativity and Quanta
Relativity and Quanta is a collection of notes and solved problems for Physics 200 Relativity and Quanta which I taught at UBC in 1998 and 1999.
---
Selected Publications
"On the Temperature Dependence of the Shape of Paramagnetic Resonance Lines", Can. J. Phys. 38, 1168 (1960), M. McMillan and W. Opechowski
"Electromagnetic Form Factors in the Regge Representation", Nuovo Cimento 25, 838 (1962), M. McMillan and E. Predazzi
"The Nuclear Many-Body Problem Using the Boundary Condition Model", Ann. Phys. (N.Y.) 23, 439 (1963), E.L. Lomon and M. McMillan
"Separable Nonlocal Potentials and Regge Poles", Nuovo Cimento 29, 1043 (1963), M. McMillan
"The Triton Wave Function in the Feshbach-Rubinow Approximation", Nucl. Phys. A159, 661 (1970), D. Maroun and M. McMillan
"Calculation of the 3He Form Factor with the Reid Potential", Phys. Lett. 40B, 437 (1972), M. McMillan
"Pauli Principle Effects in Pion--Nucleus Scattering", Phys. Rev. C8, 2094 (1973), R.H. Landau and M. McMillan
"On the Single Scattering Contribution to the Differential Cross Section for the Elastic Scattering of Low Energy Positive Pions by Deuterium", TRIUMF Report TRI-74-1, December 1974, 32 pages, M. McMillan and R.H. Landau
"Dressing the Cloudy Bag Model: 2nd Order Nucleon-Nucleon Potential", Phys. Rev. C28, 2489 (1983), D.H. Hearn, M. McMillan and A. Raskin
"Lorentz Boost of the Newton-Wigner-Pryce Position Operator", Phys. Rev. A56, 2563 (1997), A.H. Monahan and M. McMillan
"Faddeev Equations for a Relativistic Two- and Three-Body System", Phys. Rev. A58, 4226 (1998), A.H. Monahan and M. McMillan
---