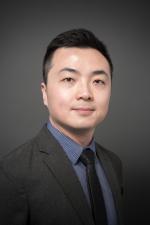 Position
Assistant Professor
Tel (Office)
(604) 822-9955
Email
kzou@phas.ubc.ca
---
---
Students Wanted
willing to supervise
---
---
Doctoral Degree
Pensylvania State University
---
Employment History
Assistant Professor (2018/02- Present), Department of Physics and Astronomy, University of British Columbia.

Post-doctoral associate (2012/11 – 2018/01), Department of Applied Physics, Yale University. 
---
Research Area
Condensed Matter
---
Research Field
Molecular Beam Epitaxy Lab
---
Research Topics
Synthesis and design of quantum materials
---
Selected Publications
C. Liu, and K. Zou, "Tuning stoichiometry and its impact on superconductivity of monolayer and multilayer FeSe on SrTiO3", Physical Review B: Rapid Communications, 101, 140502(R) (2020).
R. Peng, K. Zou, M. G. Han, S.D. Albright, H. Hong, C. Lau, H. C. Xu, Y. Zhu, F.J. Walker, C.H. Ahn, "Picoscale structural insight into superconductivity of monolayer FeSe/SrTiO3", Science Advances, 6, 15, 4517 (2020). 
F. Li, B.A. Davidson, R. Sutarto, H. Shin, C. Liu, I. Elfimov, K. Foyevtsova, F. He, G.A. Sawatzky, and K. Zou, "Epitaxial growth of perovskite SrBiO3 film on SrTiO3 (001) by oxide molecular beam epitaxy", Physical Review Materials: Rapid Communications, 3, 100802(R) (2019).
---