How to take direct images of Exoplanets?
2022-10-31T15:00:00
2022-10-31T16:00:00
Speaker:
Dr. Garima Singh, Herzberg Astronomy and Astrophysics Research Centre
* The speaker will deliver the talk remotely on Zoom. The talk will be live-streamed on Zoom in Henn 318
Intended Audience:
Undergraduate
Local Contact:
Dr. Allison Man (aman@phas.ubc.ca)
All are welcome to this event!
Event Information:
Abstract:
Exoplanets are planets that orbit stars other than the Sun. As of today, more than 5000 exoplanets have been discovered in our Milky Way galaxy alone. NASA's statistics state that each of the 300 billion stars in our galaxy has at least one planet orbiting it. Such exoplanet discoveries are already helping us to understand how planets form and evolve and what the atmospheres of exo-worlds look like, however, finding signs of life outside of Earth is still an unachievable feat.  
 
One way to find exoplanets is the direct imaging method, which translates into taking family portraits of extra-solar systems using the current ground-based telescopes (5-10-meters). Exoplanets are roughly thousand to ten billion times fainter than their stars and finding such dim signals in the presence of overwhelmingly bright stars is technically challenging. Moreover, the light of a star-planet pair that traverses through the Earth is blurred by the atmospheric layers of different temperatures, humidity, and wind speeds. The structure of telescopes also vibrates due to the motion of motors and local wind, which collectively, makes it difficult to disentangle exoplanetary signals from the starlight. This makes direct imaging biased towards finding exoplanets that shine their own light and reside far away (farther than Sun-Saturn distance) from their parent stars. The first and foremost requirement for capturing signs of life is to find closer-in exoplanets by overcoming the technical challenges faced by state-of-the-art direct imaging instruments. In this talk, I will discuss how the current instruments overcome these challenges and acquire images of exoplanets. I will also discuss the cutting-edge research being performed at NRC-HAA to improve the performance of such instruments.
Find out more about Dr. Garima Singh's research and work here: https://guiding-honu.github.io/GarimaSingh/profession/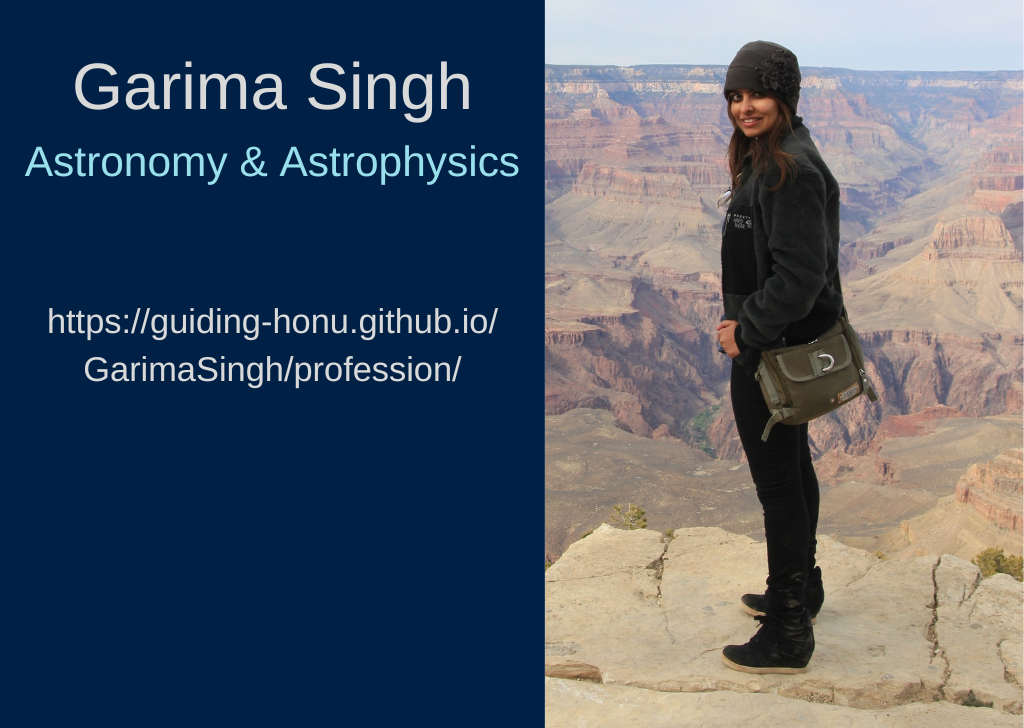 Add to Calendar
2022-10-31T15:00:00
2022-10-31T16:00:00
How to take direct images of Exoplanets?
Event Information: Abstract: Exoplanets are planets that orbit stars other than the Sun. As of today, more than 5000 exoplanets have been discovered in our Milky Way galaxy alone. NASA's statistics state that each of the 300 billion stars in our galaxy has at least one planet orbiting it. Such exoplanet discoveries are already helping us to understand how planets form and evolve and what the atmospheres of exo-worlds look like, however, finding signs of life outside of Earth is still an unachievable feat.     One way to find exoplanets is the direct imaging method, which translates into taking family portraits of extra-solar systems using the current ground-based telescopes (5-10-meters). Exoplanets are roughly thousand to ten billion times fainter than their stars and finding such dim signals in the presence of overwhelmingly bright stars is technically challenging. Moreover, the light of a star-planet pair that traverses through the Earth is blurred by the atmospheric layers of different temperatures, humidity, and wind speeds. The structure of telescopes also vibrates due to the motion of motors and local wind, which collectively, makes it difficult to disentangle exoplanetary signals from the starlight. This makes direct imaging biased towards finding exoplanets that shine their own light and reside far away (farther than Sun-Saturn distance) from their parent stars. The first and foremost requirement for capturing signs of life is to find closer-in exoplanets by overcoming the technical challenges faced by state-of-the-art direct imaging instruments. In this talk, I will discuss how the current instruments overcome these challenges and acquire images of exoplanets. I will also discuss the cutting-edge research being performed at NRC-HAA to improve the performance of such instruments. Find out more about Dr. Garima Singh's research and work here: https://guiding-honu.github.io/GarimaSingh/profession/  
Event Location: HENN 318