Five Surprising Results From the Simba Simulations
2023-10-30T16:00:00
2023-10-30T17:00:00
Speaker:
Romeel Davé, University of Edinburgh
Intended Audience:
Undergraduate
Local Contact:
Allison Mann (aman@phas.ubc.ca) and Brett Gladman (gladman@astro.ubc.ca)
*All are welcome to this event!
Event Information:
Abstract:
Cosmological simulations of galaxy formation have matured rapidly in the last decade, with recent models combining structure formation, hydrodynamics, stellar and black hole growth, and associated feedback processes to accurately reproduce the demographics of the galaxy population.  The input physics required to do so can have consequences that run counter to conventional notions of how galaxies form and evolve.  In this talk I present our Simba simulations, a state-of-the- art suite that uses novel approaches for modeling black hole growth, AGN feedback, and dust to yield a galaxy population that uniquely reproduces key observations.  I will then discuss some unexpected outcomes from Simba that offer surprising takes on how galactic feedback processes interact with and impact their cosmic ecosystem.
Bio: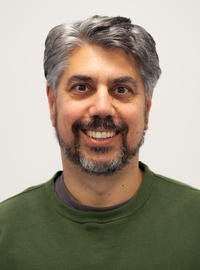 Why Does the Universe Look the Way It Does?
I am a theoretical astrophysicist who uses supercomputer simulations to study how the visible Universe evolves from the Big Bang until today. 
My scientific interests include:

Galaxy Formation and Evolution
Circum-Galactic and Intergalactic Gas
Supermassive Black Holes
The Epoch of Reionization
The Cosmic Web
Dark Matter and Dark Energy
Learn More:
Add to Calendar
2023-10-30T16:00:00
2023-10-30T17:00:00
Five Surprising Results From the Simba Simulations
Event Information: Abstract: Cosmological simulations of galaxy formation have matured rapidly in the last decade, with recent models combining structure formation, hydrodynamics, stellar and black hole growth, and associated feedback processes to accurately reproduce the demographics of the galaxy population.  The input physics required to do so can have consequences that run counter to conventional notions of how galaxies form and evolve.  In this talk I present our Simba simulations, a state-of-the- art suite that uses novel approaches for modeling black hole growth, AGN feedback, and dust to yield a galaxy population that uniquely reproduces key observations.  I will then discuss some unexpected outcomes from Simba that offer surprising takes on how galactic feedback processes interact with and impact their cosmic ecosystem. Bio: Why Does the Universe Look the Way It Does?I am a theoretical astrophysicist who uses supercomputer simulations to study how the visible Universe evolves from the Big Bang until today.  My scientific interests include:Galaxy Formation and EvolutionCircum-Galactic and Intergalactic GasSupermassive Black HolesThe Epoch of ReionizationThe Cosmic WebDark Matter and Dark Energy Learn More: See Romeel's faculty webpage at the University of Edinburgh and his personal website here See his LinkedIn profile View his CV
Event Location: HENN 318