The Dragonfly Spectral Line Mapper: New eyes to reveal the faintest and largest structures in the universe
2023-03-13T15:00:00
2023-03-13T16:00:00
Speaker:
Dr. Deborah Lokhorst (Herzberg Astronomy and Astrophysics)
Intended Audience:
Public
Local Contact:
Dr. Allison Man (aman@phas.ubc.ca)
*All are welcome at this event!*
Event Information:
Abstract:
The majority of baryons in the universe exist outside galaxies, in the circumgalactic (CGM) and intergalactic medium (IGM). The properties of these structures are important to understand as the material they hold is required to fuel ongoing star formation in galaxies. The process of how the gas in the CGM gets into galaxies (and is blown back out through galactic feedback) is still debated, though – in fact, the total mass of the CGM of galaxies is still unknown. This mystery remains due to the near invisibility of the CGM and IGM.
In this talk, I will describe an upcoming upgrade to the Dragonfly Telephoto Array that implements ultra-narrow bandpass imaging capability on the telescope which will enable it to directly image the CGM of local galaxies. I will present the results from a pathfinder version of the upgraded Dragonfly and the plans for the full upgrade, the Dragonfly Spectral Line Mapper, which is currently under construction (with first light expected within a month!).
Bio: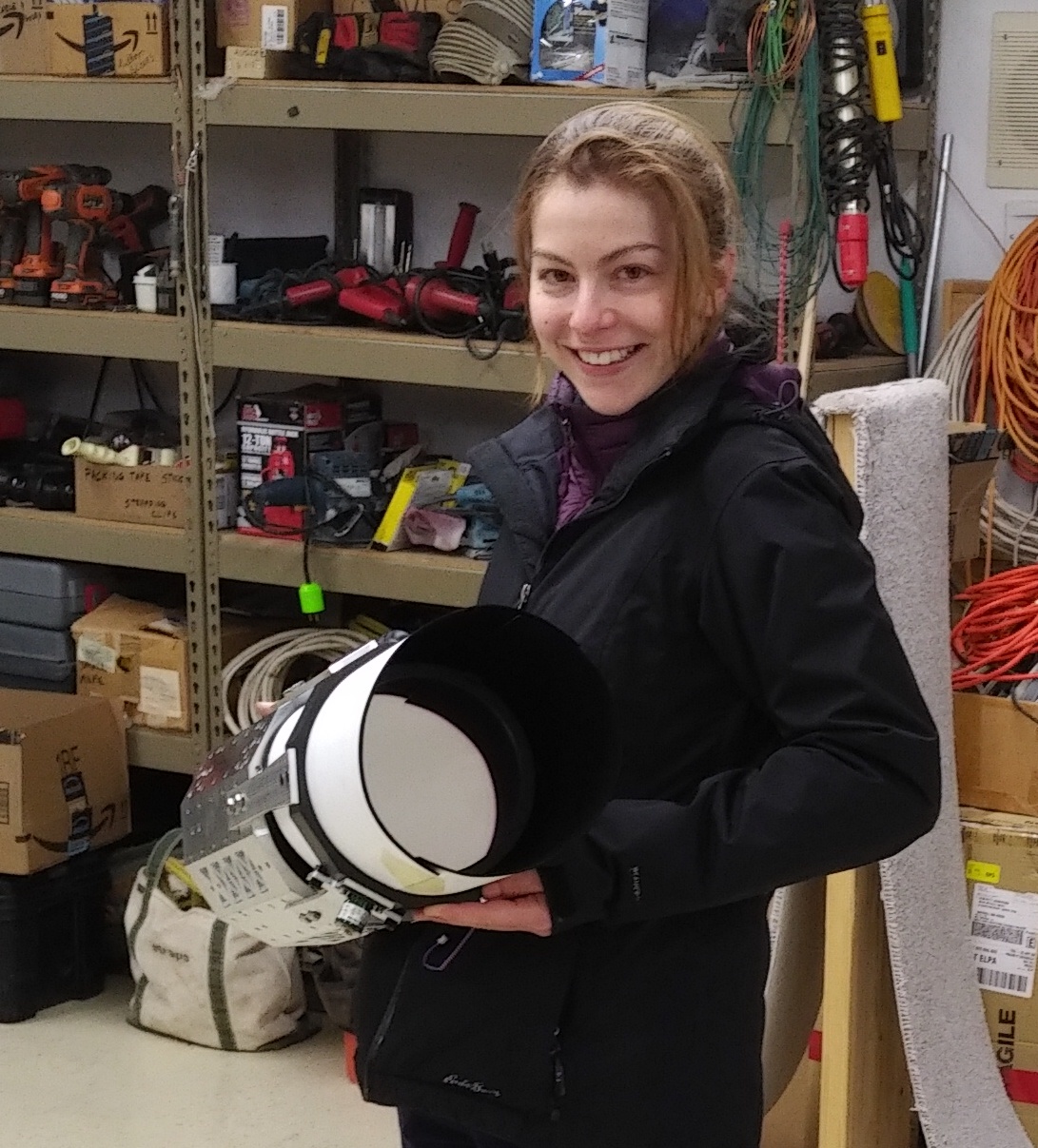 Deborah uses a combination of instrumentation, observation and theoretical astrophysics to investigate galaxy formation and evolution, and the role of dark matter in the universe. She started working with and building instrumentation for the Dragonfly Telephoto Array during her PhD at the University of Toronto and the Dunlap Institute. After graduating in 2021, she has continued working with Dragonfly as a Herzberg Instrument Science Fellow at the NRC Herzberg Astronomy & Astrophysics Research Centre in Victoria, BC, Canada.
Learn More:
See Deborah's personal webpage here
See her National Research council of Canada webpage here
Add to Calendar
2023-03-13T15:00:00
2023-03-13T16:00:00
The Dragonfly Spectral Line Mapper: New eyes to reveal the faintest and largest structures in the universe
Event Information:   Abstract: The majority of baryons in the universe exist outside galaxies, in the circumgalactic (CGM) and intergalactic medium (IGM). The properties of these structures are important to understand as the material they hold is required to fuel ongoing star formation in galaxies. The process of how the gas in the CGM gets into galaxies (and is blown back out through galactic feedback) is still debated, though – in fact, the total mass of the CGM of galaxies is still unknown. This mystery remains due to the near invisibility of the CGM and IGM. In this talk, I will describe an upcoming upgrade to the Dragonfly Telephoto Array that implements ultra-narrow bandpass imaging capability on the telescope which will enable it to directly image the CGM of local galaxies. I will present the results from a pathfinder version of the upgraded Dragonfly and the plans for the full upgrade, the Dragonfly Spectral Line Mapper, which is currently under construction (with first light expected within a month!). Bio: Deborah uses a combination of instrumentation, observation and theoretical astrophysics to investigate galaxy formation and evolution, and the role of dark matter in the universe. She started working with and building instrumentation for the Dragonfly Telephoto Array during her PhD at the University of Toronto and the Dunlap Institute. After graduating in 2021, she has continued working with Dragonfly as a Herzberg Instrument Science Fellow at the NRC Herzberg Astronomy & Astrophysics Research Centre in Victoria, BC, Canada.   Learn More: See Deborah's personal webpage here See her National Research council of Canada webpage here  
Event Location: HENN 318