Detecting Pulsars with Neural Networks
2022-11-14T15:00:00
2022-11-14T16:00:00
Speaker:
Lars Künkel (PHAS)
Intended Audience:
Undergraduate
Local Contact:
Allison Man
**all undergrads, grads, post-docs, faculty and the public are welcome to this event!**
Event Information:
Abstract:
Pulsars are rotating neutron stars which emit faint beams of electromagnetic radiation. In pulsar searches large effort is expended to discover these pulses in time- and frequency-resolved data from radio telescopes. Simultaneously recovering the frequency-dependent delay (dispersion) and the periodicity of the signal is a complex and demanding task, which is further exacerbated by the presence of various types of radio-frequency interference (RFI) and observing-system effects.
I present a novel approach for the analysis of pulsar search data. I developed a neural-network-based pipeline that is able find pulsars directly in time- and frequency resolved data. The pipeline combines a convolutional neural network using dilated convolutions with standard algorithms for periodicity search such as the Fast Fourier Transform (FFT) and the Fast Folding Algorithm (FFA). This architecture can be trained in an end-to-end manner to identify faint pulses with an unknown amount of dispersion using a combination of simulated pulsars and unlabelled survey data as the training data. I present my training approach which allows the network to detect strong pulsars after a small amount of time and increase the sensitivity in subsequent training steps.
Bio: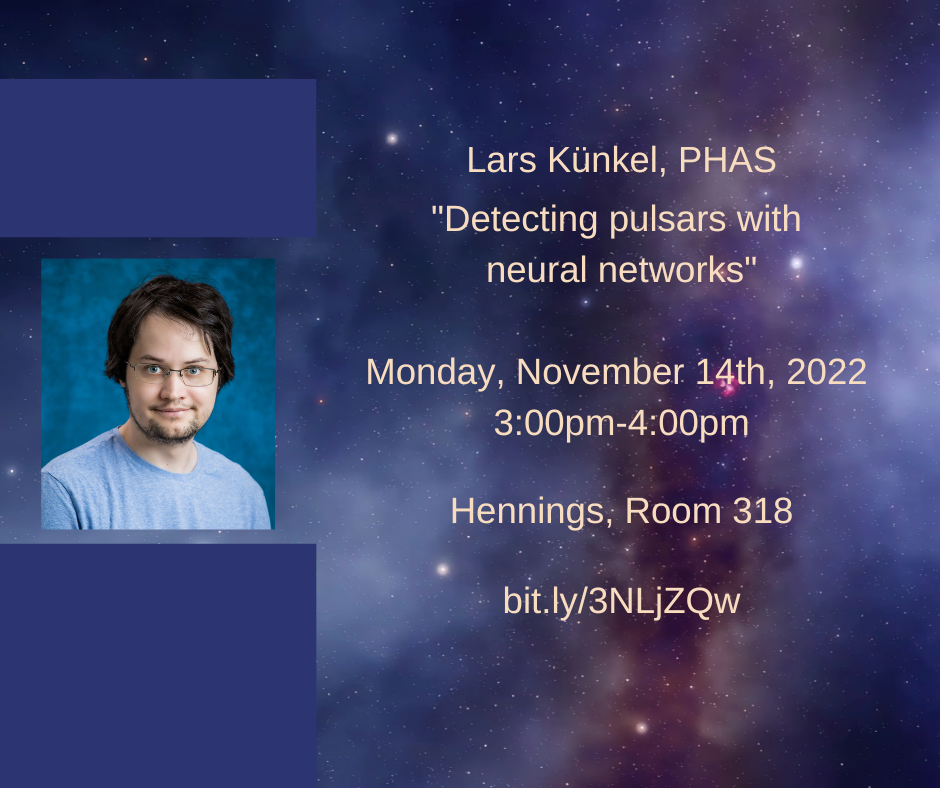 Lars Künkel is a new post-doc here at PHAS.
email: lkuenkel@phas.ubc.ca 
office: Hennings 324
Add to Calendar
2022-11-14T15:00:00
2022-11-14T16:00:00
Detecting Pulsars with Neural Networks
Event Information:   Abstract: Pulsars are rotating neutron stars which emit faint beams of electromagnetic radiation. In pulsar searches large effort is expended to discover these pulses in time- and frequency-resolved data from radio telescopes. Simultaneously recovering the frequency-dependent delay (dispersion) and the periodicity of the signal is a complex and demanding task, which is further exacerbated by the presence of various types of radio-frequency interference (RFI) and observing-system effects. I present a novel approach for the analysis of pulsar search data. I developed a neural-network-based pipeline that is able find pulsars directly in time- and frequency resolved data. The pipeline combines a convolutional neural network using dilated convolutions with standard algorithms for periodicity search such as the Fast Fourier Transform (FFT) and the Fast Folding Algorithm (FFA). This architecture can be trained in an end-to-end manner to identify faint pulses with an unknown amount of dispersion using a combination of simulated pulsars and unlabelled survey data as the training data. I present my training approach which allows the network to detect strong pulsars after a small amount of time and increase the sensitivity in subsequent training steps. Bio: Lars Künkel is a new post-doc here at PHAS. email: lkuenkel@phas.ubc.ca  office: Hennings 324    
Event Location: HENN 318