Cancelled: Queering Physics: A History of the Queer Rights in the USA and LGBT+ Advocacy in Physics
2023-10-05T16:00:00
2023-10-05T17:00:00
Speaker:
*This event has been cancelled*
Intended Audience:
Undergraduate
Event Information:
*This event has been cancelled*
Abstract:
Queer civil rights in the USA have been hard won from direct activism and organization of a diverse coalition of people, including trans women and men, People of Color, and members of the LGBT+ community more broadly. 
This talk will explore this history and take an in-depth look at how principles from this history were applied to physics to make significant policy changes. The data presented will uncover a concerning climate for LGBT+ physicists, which can be even more challenging for trans persons and People of Color. The talk will conclude with concrete actions that everyone can take to become more informed about Queer Studies and implement impactful best practices in their own lives. 
 
Bio: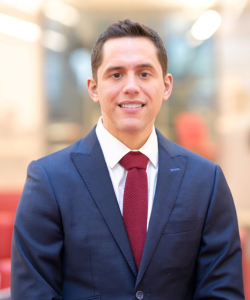 Ramón Barthelemy is an assistant professor of physics and astronomy at the University of Utah and a fellow of the American Physical Society. Previous to his faculty position Ramón was a Fulbright Scholar in Finland, a Science Policy Fellow in the U.S. Department of Education and a private sector consultant. His work focuses on the lives, educational experiences, and career paths of marginalized students in physics and STEM. This has included work on LGBT+ people, graduate Students of Color, and women in physics. Through this work he has become a global leader on LGBT+ inclusion in STEM with dozens of publications and over $5M in National Science Foundation funding. 
Ramón was the 2020 recipient of the Fulbright Finland Alumni Award, the 2021 recipient of the AAPT Doc Brown Futures award, and the 2022 WEPAN Research award recipient. He is now also running to be a Utah State House Representative. You can reach him on Twitter @RamonBarthelemy or his research group's website www.PERUtah.com 
 
Add to Calendar
2023-10-05T16:00:00
2023-10-05T17:00:00
Cancelled: Queering Physics: A History of the Queer Rights in the USA and LGBT+ Advocacy in Physics
Event Information: *This event has been cancelled*   Abstract:Queer civil rights in the USA have been hard won from direct activism and organization of a diverse coalition of people, including trans women and men, People of Color, and members of the LGBT+ community more broadly.  This talk will explore this history and take an in-depth look at how principles from this history were applied to physics to make significant policy changes. The data presented will uncover a concerning climate for LGBT+ physicists, which can be even more challenging for trans persons and People of Color. The talk will conclude with concrete actions that everyone can take to become more informed about Queer Studies and implement impactful best practices in their own lives.   Bio:  Ramón Barthelemy is an assistant professor of physics and astronomy at the University of Utah and a fellow of the American Physical Society. Previous to his faculty position Ramón was a Fulbright Scholar in Finland, a Science Policy Fellow in the U.S. Department of Education and a private sector consultant. His work focuses on the lives, educational experiences, and career paths of marginalized students in physics and STEM. This has included work on LGBT+ people, graduate Students of Color, and women in physics. Through this work he has become a global leader on LGBT+ inclusion in STEM with dozens of publications and over $5M in National Science Foundation funding.  Ramón was the 2020 recipient of the Fulbright Finland Alumni Award, the 2021 recipient of the AAPT Doc Brown Futures award, and the 2022 WEPAN Research award recipient. He is now also running to be a Utah State House Representative. You can reach him on Twitter @RamonBarthelemy or his research group's website www.PERUtah.com  
Event Location: HENN 202