Machine Learning in the era of Time Domain Astronomy
2022-11-21T15:00:00
2022-11-21T16:00:00
Speaker:
Dr. Ashish Mahabal, Caltech
Intended Audience:
Undergraduate
Local Contact:
Dr. Allison Man (aman@phas.ubc.ca)
All are welcome to this event!
Event Information:
Abstract:
Astronomy surveys like the Zwicky Transient Facility have been leading to discoveries that are orders of magnitude more than just a decade ago.  The
discoveries range from the Solar System (comets, NEAs etc.) to Galactic science (CVs, YSOs, binaries etc.), to extragalactic (distant supernovae, AGN, TDEs) and possible EM counterparts to multi-messenger transients. We will provide an overview of the plethora of discoveries, and the ongoing work. We will describe our plans for ramping up discoveries even further with the aid of machine learning, especially by combining the archives with fresh alerts.  With newer surveys, as we go fainter, cover more wavelengths, and go multi-messenger, more novel objects will be found. The rarity of these objects will both push the boundaries of our understanding, and also, due to the lack of statistically significant samples sometimes lead to premature claims, especially when using cutting-edge machine learning. We explore some aspects of time domain astronomy and its inherent biases, and comment on the requirement to explain the results through various techniques often involving post-hoc interpretability.
Find out more about Dr. Ashish Mahabal's research and work here: https://sites.astro.caltech.edu/~aam/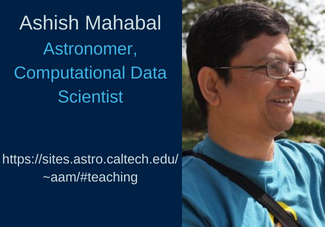 Add to Calendar
2022-11-21T15:00:00
2022-11-21T16:00:00
Machine Learning in the era of Time Domain Astronomy
Event Information: Abstract: Astronomy surveys like the Zwicky Transient Facility have been leading to discoveries that are orders of magnitude more than just a decade ago.  The discoveries range from the Solar System (comets, NEAs etc.) to Galactic science (CVs, YSOs, binaries etc.), to extragalactic (distant supernovae, AGN, TDEs) and possible EM counterparts to multi-messenger transients. We will provide an overview of the plethora of discoveries, and the ongoing work. We will describe our plans for ramping up discoveries even further with the aid of machine learning, especially by combining the archives with fresh alerts.  With newer surveys, as we go fainter, cover more wavelengths, and go multi-messenger, more novel objects will be found. The rarity of these objects will both push the boundaries of our understanding, and also, due to the lack of statistically significant samples sometimes lead to premature claims, especially when using cutting-edge machine learning. We explore some aspects of time domain astronomy and its inherent biases, and comment on the requirement to explain the results through various techniques often involving post-hoc interpretability. Find out more about Dr. Ashish Mahabal's research and work here: https://sites.astro.caltech.edu/~aam/
Event Location: HENN 318