Physics 438 / Biology 438 --- Zoological Physics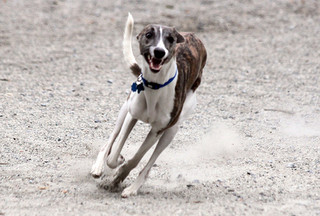 Professor Oser's dog challenges the speed of light.
Term: January 2021
Lecturer: Scott Oser
Class coordinates: Mondays/Wednesdays/Fridays, 13:00-14:00 online (Zoom coordinates posted on Canvas)
My Office Hours: Thursdays 14:30-15:30 and Fridays 10:30-11:25, by Zoom (Zoom coordinates posted on Canvas)
TAs: Jasmin Wong and Bradley Guislain
TA Office Hours: Mondays, 17:00-18:00, by Zoom (Zoom coordinates posted on Canvas)
Topics covered: Quantitative analysis of zoological systems; biological applications of thermodynamics, mechanics, and fluids; physics of animal body design and locomotion; wave phenomena; optical and acoustical applications to biology; electromagnetic senses of animals
Prerequisites: One of PHYS 101, PHYS 107, PHYS 117, PHYS153, PHYS157, or SCI001. BIOL 325 is recommended but not required.
Required Textbook: Zoological Physics, by Boye Ahlborn. Note: an electronic copy of this book is available for free for UBC students from the UBC library web site. You must be using a UBC IP address or VPN to access it.
| | |
| --- | --- |
| | Contribution to final grade |
| Final Exam | 30% |
| Midterm | 25% |
| Homework | 20% |
| Final Project | 25% |

Homework: There will be approximately biweekly homework assignments. You are welcome to discuss problems informally with your classmates. However, you must complete the assignment yourself, and if you hand in obviously copied homework, you should expect a mark of zero on that assignment, and a penalty to your final course grade. I reserve the right to refer incidents to UBC for an academic misconduct investigation as well. Assignments are due by 23:59 Pacific time on their due date. Late assignments are penalized at a rate of -20% per day. I will also throw out the lowest of your six homework scores at the end of the term, even if that score is zero.
Research Project: Working in teams of three or four you will prepare a "research paper" and accompanying poster illustrating a particular example of zoological physics. This will include reviewing the relevant research literature and doing your own calculation/mathematical modelling of the topic you choose. I will assign the teams for the project.
Exam Logistics and Invigilation: The midterm and final exam will be conducted remotely, with Zoom invigilation. You will complete the exams on pencil and paper while logged into Zoom, with your webcam turned on and oriented so the TAs and instructor have a view of you and your immediate work area and can be sure you're not accessing non-permitted resources. At the end of the exam you will upload scans or photographs of your papers to Canvas. Note: you are allowed to use a non-internet-equipped scientific calculator during the exams, but you are not allowed to use your cell phone, laptop, etc as a calculator. Buy a cheap scientific calculator such as this if you don't already have one. The only other use of electronic devices during the exam will be for displaying the exam questions on your screen (you don't need to have access to a printer), and for uploading your papers once the exam ends.
Missed exams: There will be one in-class midterm exam (remote, with Zoom invigilation). If you miss the exam with a legitimate excuse (proof of illness, family emergency, etc), contact me to discuss make-up options.

Religious holidays: Students are entitled to request an alternate test date if a scheduled test date falls on one of their holy days. If you think this may apply to you, please contact me as soon as possible to make an alternate arrangement. Please don't put this off until the last minute---you must give at least two week's notice.
University-required legalese: During this pandemic, the shift to online learning has greatly altered teaching and studying at UBC, including changes to health and safety considerations. Keep in mind that some UBC courses might cover topics that are censored or considered illegal by non-Canadian governments. This may include, but is not limited to, human rights, representative government, defamation, obscenity, gender or sexuality, and historical or current geopolitical controversies. If you are a student living abroad, you will be subject to the laws of your local jurisdiction, and your local authorities might limit your access to course material or take punitive action against you. UBC is strongly committed to academic freedom, but has no control over foreign authorities (please visit http://www.calendar.ubc.ca/vancouver/index.cfm?tree=3,33,86,0 for an articulation of the values of the University conveyed in the Senate Statement on Academic Freedom). Thus, we recognize that students will have legitimate reason to exercise caution in studying certain subjects. If you have concerns regarding your personal situation, consider postponing taking a course with manifest risks, until you are back on campus or reach out to your academic advisor to find substitute courses. For further information and support, please visit: http://academic.ubc.ca/support-resources/freedom-expression

FINAL EXAM: The final exam is scheduled for Sunday, April 25th, 2021 at 12:00 pm PDT.

Syllabus: The nominal lecture schedule follows. Click on the lecture number in the left-most column to access the lecture slides.
Lecture #

Date

Topics Covered

Reading Material
(Textbook Sections)

Assignment Due (tentative)

1/11

Introduction; Life and entropy; energy and metabolic rates

Ch 1.0-1.3.1




1/13

Allometric relationships; dimensional analysis; units

Ch 1.3.2-1.4.3




1/15

Energy and work; forces and muscles; mechanical efficiency

Ch 2.1-2.2.3




1/18

Power vs. efficiency tradeoffs; heat transfer; radiation, convection, conduction

Ch 2.2.4-2.3.8




1/20

Temperature range of life; maintaining body temperature; thermal properties of the ocean

Ch 2.4-2.5




1/22

Forces in equilibium; how muscles generate forces; energetics of muscles

Ch 3.1-3.2

HW 1 (actually extended until Jan 23, 23:59 PST)

1/25

Hydrostatic forces: pressure, buoyancy, surface tension. Elastic forces; friction

Ch 3.3




1/27

Stress, strain, and materials properties. Allometry revisited

Ch 3.7-3.8




1/29

Mechanical principles of body design

Ch3.5-3.6




2/1

Fluid dynamics. Bernoulli's Law. Lift & drag.

Ch 3.4




2/3

Moving nutrients across barriers: diffusion, cell size, pipe flow

Ch 4.1-4.2.1

2/5

Turbulence; blood pressure; the circulatory system

Ch 4.2.2-4.3.2




2/8

Oxygen requirements; capillaries; how lungs work; heart and breathing rates

Ch 4.3.3-4.4




2/10

Basic kinematics; linear and rotational motion; moments of inertia; methods of acceleration

Ch 5.1-5.2.3




2/12

Research project discussion










2/15

NO CLASS -- midterm break










2/17

NO CLASS -- midterm break










2/19

NO CLASS -- midterm break







2/22

Terminal velocity; jet propulsion in animals; Energetics of movement; elastic materials in the body; resonance frequencies and motion

Ch 5.2.4-5.3




2/24

Periodic motion and resonance

Ch 6.1




2/26

Swimming

Ch 6.2

19 +

3/1

Flying

Ch 6.3

3/3

Walking and running




Ch 6.4







3/5

MIDTERM EXAM







3/8

Basic properties of waves: amplitude, phase, velocity

Ch 7.1-7.3.2




3/10

Basic properties of waves: interference, diffraction, reflection, refraction, Huygen's principle

Ch 7.3.3-7.5




3/12

Light; thermal spectra; pinhole cameras; refraction

Ch 8.1-8.2.3

3/15

How lenses work; diffraction; the human eye

Ch 8.2.4-8.3




3/17

Strange, freaky animal eyes

Ch 8.4-8.5




3/19

Interference effects in animals: anti-reflective coatings; why cat eyes shine in the dark; iridescence

Ch 8.6-8.7




3/22

What is sound? Speed, intensity, and impedance. Measuring volume. Beat phenomena

Ch 9.1-9.2.4




3/24

Impedance matching and sound transmission. The mammalian ear. Frequency/sensitivity range of hearing

Ch 9.2.5-9.3

3/26

Vibrations in strings. Vibrations in air columns. How animal voices work.

Ch 9.4-9.5




3/29

Echolocation; Doppler shifts

Ch 9.6-9.8




3/31

Electric fields, currents, resistivity. How nerves work. Sensing electric fields

Ch 10.1-10.3.1







4/2

NO CLASS – Good Friday










4/5

NO CLASS – Easter Monday







4/7

Producing electric fields

Ch 10.3.2-10.4




4/9

Biological use of magnetic phenomena

Ch 10.5







4/12

Overflow class, if necessary
WRITTEN REPORTS AND POSTERS DUE FOR ALL TEAMS




Research project due!




4/14

Virtual poster session



Scott Oser (email me) December 3, 2020