Nathan Powless and Paul de Leon received 2021 PHAS staff service awards
January 13, 2022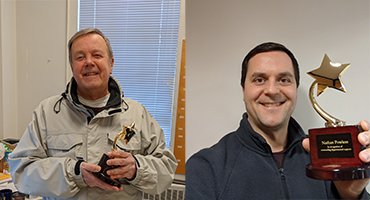 The 2021 UBC Physics & Astronomy Staff Service Awards have been announced. Congratulations to PHAS Systems Manager Nathan Powless and Finance/Operations Director Paul de Leon, who are recognized for their significant contributions during the past year when the department had to operate remotely due to COVID-19. 
Nathan joined the department in October 2019. Shortly after, the department had to move much of its operations online due to COVID-19. During the time that staff and faculty members were working remotely, Nathan ensured department members' laptops were up to UBC security standard, purchased equipment for those who were not initially set up for remote working, and made house calls to assist with technical issues. 
Paul joined the department in September 2010 from UBC Department of Earth and Ocean Sciences. Paul was a key "behind the scenes" force in keeping the department going during COVID times, and making sure department facilities are still operational when we all returned to campus in September 2021. He also took the department through a challenging transition to the Workday system. 
This award is presented on an annual basis to Physics and Astronomy staff members whose contributions in areas such as service, administration and leadership have had a significant and positive impact in achieving the goals of the Department. The awards are announced each year during the departmental Christmas party.